The demand and scope of the occupational therapy profession are increasing rapidly. The Occupational therapist works in different settings from a general hospital to rehabilitation centers. The occupational therapist primarily involves the patient in his/her daily routine or occupational tasks to improve the function. Occupational therapist and occupational therapy assistant working closely with the patient to help them to recover from the disease or impairment.
The Occupational therapy and occupational therapy assistant degree courses are required for entry into the OT profession. The Entry level degree in occupational therapy is a master degree or OTD (occupational therapy doctorate degree).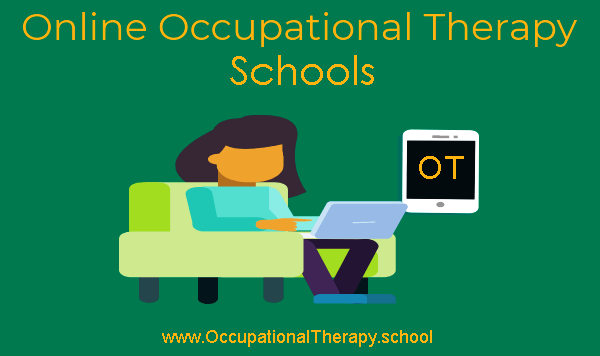 What is the online Occupational therapy program?
As the name suggests, The Online occupational therapy program is the program offered by the occupational therapy schools for the students and the medium of learning is through the internet. It becomes very easy for the students who don't want to take admission in the regular classes. The online OT programs provide the own pace and time of learning occupational therapy.
Why choose Online OT programs?
The online Occupational Therapy program offers many positive sides, let's go through it.
Benefits of online Occupational therapy programs-
Variety of programs and courses- A student can take admission in different or similar online courses simultaneously.
Lower total costs- Online OT programs can be a more affordable option than traditional colleges. No house rent/ hostel expenses, no commuting expenses, fewer books required.
Comfortable learning environment- students can learn from anywhere, at home, hostel, café, etc.
Convenience and flexibility- Online OT courses give students the opportunity to plan their study time according to them. Students can study and work when they are at their peak energy, whether that's early morning or late at night.
Career advancement: Students can take online courses and even complete entire degrees while working, while in-between jobs, or while taking time to raise a family.
Continue in your OT profession: Currently registered occupational therapist (OTR) can take online classes for the post-professional courses available for them. They don't need to leave their current job. The previously mentioned flexibility of online OT degree programs enables therapists to keep working while also pursuing academic credentials.
Online occupational therapy schools requirements-
Students who apply to occupational therapy schools online usually need to have earned their bachelors degree from a regionally accredited college. These online occupational therapy programs may require students to have completed coursework in human anatomy, abnormal psychology, statistics, and sociology.
Also, those who apply to an occupational therapy online program may have to show a specific cumulative GPA ( >2.5 GPA), furnish 2-3 reference letters, and write a personal essay. By contrast, students who apply to a post-professional (Doctor of Occupational Therapy) online program are usually occupational therapists who have earned their master's degree with a license to practice as an OT.
Online Vs regular OT programs?
Regular occupational therapy programs have been running since the beginning of the OT field. The regular or full-time classes include theory as well as practical classes, which helps the students to learn occupational therapy from basic.
Now, the new trend has become popular in the education field. i.e. online degree courses. The online degree course is the demand of the current education system. Many professions are providing their courses online.
Similarly, in the occupational therapy field, some schools had started online OT programs.
But there is no single complete online course is available for the entry-level program in the occupational therapy. Entry level program (where students learn the basics through theory, practicals, and field works) is required to enter into the OT profession. And it is difficult to provide complete training through online mode.
So, AOTA and ACOTE have not approved any OT school in the USA for full online entry level course.
Online Entry level master degree program-
As we have mentioned above, there is no single OT school, which provides 100% online entry-level program. Instead, some school provides a flexible educational option as nearly 40-50% online course and 50-60% on-campus course, thus satisfy the need of students who want to prefer their education as distant learning.
But this option could be time-consuming. Where the regular OT program is of 2-year duration, a semi-online course would be about 2.5 to 3 years.
The following accredited entry-level occupational therapy programs indicated that some portion of the program is offered by distance education or through online mode.
NOTE: Prospective applicants should carefully review the program's Web site for in-class and fieldwork requirements.
Here is the list of OT schools which provides online Occupational therapy degree (master degree- entry level)-
*percentage- the percentage of online learning in the degree program.
Cabarrus College of Health Sciences
Percentage
Campus
Website
Rating
75-100%
Concord, North Carolina
www.cabarruscollege.edu
8/10
Louisiana St. U. Shreveport
Percentage
Campus
Website
Rating
75-100%
Shreveport, Louisiana.
www.lsuhscshreveport.edu
8/10
University of Mary
Percentage
Campus
Website
Rating
75-100%
Bismarck, North Dakota
www.umary.edu/
8/10
University of Minnesota
Percentage
Campus
Website
Rating
75-100%
Minneapolis, Minnesota
alliedhealth.umn.edu
8/10
University of Oklahoma
Percentage
Campus
Website
Rating
75-100%
Oklahoma City, Oklahoma
alliedhealth.ouhsc.edu/
8/10
Bay Path University
Percentage
Campus
Website
Rating
50-74%
Longmeadow,
Massachusetts
www.baypath.edu/
8/10
Grand Valley State University
Percentage
Campus
Website
Rating
50-74%
Grand Rapids, Michigan
www.gvsu.edu/ot
7/10
Shenandoah University
Percentage
Campus
Website
Rating
50-74%
Winchester, Virginia
www.su.edu/ot
7/10
University of Louisiana
Percentage
Campus
Website
Rating
50-74%
Monroe, Louisiana.
www.ulm.edu/ot/
7/10
University of St. Augustine
Percentage
Campus
Website
Rating
50-74%
Austin, Texas
www.usa.edu/
7/10
University of St. Augustine
Percentage
Campus
Website
Rating
50-74%
St. Augustine, Florida
www.usa.edu/
7/10
Western New Mexico University
Percentage
Campus
Website
Rating
50-74%
Silver city, New Maxico
www.wnmu.edu
7/10
Barry University
Percentage
Campus
Website
Rating
25-49%
Miami, Florida
www.barry.edu/ot/
8/10
Belmont University
Percentage
Campus
Website
Rating
25-49%
Nashville, tennessee
www.belmont.edu/ot/
7/10
Brenau University
Percentage
Campus
Website
Rating
25-49%
Gainesville, Georgia
www.brenau.edu/
7.5/10
Concordia University Wisconsin
Percentage
Campus
Website
Rating
25-49%
Mequon, Wisconsin
www.cuw.edu/
7/10
Howard University
Percentage
Campus
Website
Rating
25-49%
Washington, DC
www.howard.edu
8/10
New England Institute of Tech.
Percentage
Campus
Website
Rating
25-49%
East Greenwich, Rhode Island
www.neit.edu
8/10
Philadelphia University
Percentage
Campus
Website
Rating
25-49%
Philadelphia, Pennsylvania
www.philau.edu
7/10
Salem State University
Percentage
Campus
Website
Rating
25-49%
Salem, Massachusetts
www.salemstate.edu
7/10
Spalding University
Percentage
Campus
Website
Rating
25-49%
Louisville, Kentucky
www.spalding.edu
7/10
University of North Dakota
Percentage
Campus
Website
Rating
25-49%
Grand Forks, North Dakota
med.und.edu
7/10
Utica College
Percentage
Campus
Website
Rating
25-49%
Utica, New York
www.utica.edu
8/10
Online entry-level Occupational therapy doctorate program
Duquesne University
Percentage
Campus
Website
Rating
75-100%
Pittsburgh, Pennsylvania
www.duq.edu
8/10
Nova Southeastern University
Percentage
Campus
Website
Rating
25-49%
Tampa, Florida
www.nova.edu
8/10
Pacific University
Percentage
Campus
Website
Rating
25-49%
Hillsboro, Oregon
www.pacificu.edu
8/10
Creighton University
Percentage
Campus
Website
Rating
1-24%
Omaha, Nebraska
spahp.creighton.edu
7/10
Huntington University
Percentage
Campus
Website
Rating
1-24%
Fort Wayne, Indiana
www.huntington.edu
7/10
University of South Dakota
Percentage
Campus
Website
Rating
1-24%
Vermillion, South Dakota
www.usd.edu
7/10
University of Tennessee
Percentage
Campus
Website
Rating
1-24%
Chattanooga,  Tennessee
www.utc.edu
7/10
University of the Sciences
Percentage
Campus
Website
Rating
1-24%
Philadelphia, Pennsylvania
www.usciences.edu
7/10
University of Toledo
Percentage
Campus
Website
Rating
1-24%
Toledo, Ohio
www.utoledo.edu
7/10
Online Post professional MS program
A. T. Still University
Percentage
Campus
Website
Rating
100%
Mesa, Arizona
www.atsu.edu
9/10
University of Southern California
Percentage
Campus
Website
Rating
100%
Los Angeles, California
chan.usc.edu
9/10
Eastern Kentucky University
Percentage
Campus
Website
Rating
50%
Richmond, Kentucky
ot.eku.edu
7/10
Cleveland State University
Percentage
Campus
Website
Rating
50-100%
Cleveland, Ohio
www.csuohio.edu
7/10
Misericordia University
Percentage
Campus
Website
Rating
75-100%
Dallas, Pennsylvania
www.misericordia.edu
7/10
Mount Mary University
Percentage
Campus
Website
Rating
100%
Milwaukee, Wisconsin
www.mtmary.edu
7/10
University of Wisconsin-Madison
Percentage
Campus
Website
Rating
50-100%
Madison, Wisconsin
kinesiology.wisc.edu
8/10
Online Post professional OTD program
A.T. Still University of Health Sciences
Percentage
Campus
Website
Rating
100%
Mesa, Arizona
www.atsu.edu
8/10
Loma Linda University
Percentage
Campus
Website
Rating
100%
Loma Linda, California
www.llu.edu
8/10
Quinnipiac University
Percentage
Campus
Website
Rating
100%
Hamden, Connecticut
www.quinnipiac.edu
8/10
George Washington University
Percentage
Campus
Website
Rating
100%
Washington, District of Columbia
smhs.gwu.edu
8/10
Gannon University
Percentage
Campus
Website
Rating
90-100%
Ruskin, Florida
www.gannon.edu
7/10
Nova Southeastern University
Percentage
Campus
Rating
90-100%
Ft. Lauderdale, Florida
www.nova.edu
8/10
South University-West Palm Beach
Percentage
Campus
Website
Rating
50-100%
Royal Palm Beach, Florida
—–
8/10
The University of St. Augustine for Health Sciences
Percentage
Campus
Website
Rating
100%
St. Augustine, Florida
www.usa.edu
8/10
Brenau University
Percentage
Campus
Website
Rating
75-100%
Gainesville, Georgia
www.brenau.edu
7/10
Governors State University
Percentage
Campus
Website
Rating
75-100%
University Parkway, Ilinois
www.govst.edu
7/10
The University of Illinois at Chicago
Percentage
Campus
Website
Rating
50-75%
Chicago, Illinois
ahs.uic.edu
7/10
Indiana University
Percentage
Campus
Website
Rating
75-100%
Indianapolis, Indiana
shrs.iupui.edu
7/10
University of Indianapolis
Percentage
Campus
Website
Rating
75-100%
Indianapolis, Indiana
ot.uindy.edu
7/10
University of Kansas Medical Center
Percentage
Campus
Website
Rating
100%
Kansas City, Kansas
http://www.ot.kumc.edu/
8/10
Eastern Kentucky University
Percentage
Campus
Website
Rating
100%
Richmond, Kentucky
online.eku.edu
7/10
Towson University
Percentage
Campus
Website
Rating
80-100%
Towson, Maryland
grad.towson.edu
7/10
American International College
Percentage
Campus
Website
Rating
100%
Springfield, Massachusetts
www.aic.edu
7/10
Bay Path University
Percentage
Campus
Website
Rating
100%
Longmeadow, Massachusetts
www.baypath.edu
7/10
Boston University
Percentage
Campus
Website
Rating
100%
Boston, Massachusetts
www.bu.edu
7/10
St. Catherine University
Percentage
Campus
Website
Rating
100%
St. Paul, Minnesota
www.stkate.edu
7/10
Saint Louis University
Percentage
Campus
Website
Rating
75-100%
St. Louis, Missouri
ot.slu.edu
7/10
Washington University
Percentage
Campus
Website
Rating
50-75%
St. Louis, MO
ot.wustl.edu/
7/10
Creighton University
Percentage
Campus
Website
Rating
75-100%
Omaha, Nebraska
spahp.creighton.edu
7/10
New York University
Percentage
Campus
Website
Rating
100%
New York city, NY
ot.steinhardt.nyu.edu
7/10
Chatham University
Percentage
Campus
Website
Rating
75-100%
Pittsburgh, Pennsylvania
www.chatham.edu
7/10
Duquesne University
Percentage
Campus
Website
Rating
100%
Pittsburgh, Pennsylvania
http://www.duq.edu/ot
7/10
Gannon University
Percentage
Campus
Website
Rating
90-100%
Erie, PA
www.gannon.edu
7/10
Misericordia University
Percentage
Campus
Website
Rating
75-100%
Dallas, PA
www.misericordia.edu
7/10
Salus University
Percentage
Campus
Website
Rating
50-100%
Elkins Park, PA
www.salus.edu
7/10
Temple University
Percentage
Campus
Website
Rating
75-100%
Philadelphia, PA
cph.temple.edu
7/10
Thomas Jefferson University
Percentage
Campus
Website
Rating
100%
Philadelphia, PA
www.jefferson.edu
7/10
University of the Sciences
Percentage
Campus
Website
Rating
75-100%
Philadelphia, PA
www.usciences.edu
7/10
Texas Woman's University
Percentage
Campus
Website
Rating
75%
Denton, TX
www.twu.edu/ot
7/10
University of Texas Medical Branch
Percentage
Campus
Website
Rating
100%
Galveston, TX
shp.utmb.edu
7/10
Rocky Mountain University of Health Professions
Percentage
Campus
Website
Rating
50%
Provo, Utah
www.rmuohp.edu
7/10
University of Utah
Percentage
Campus
Website
Rating
100%
Salt Lake City, UT
health.utah.edu
7/10
Jefferson College of Health Sciences
Percentage
Campus
Website
Rating
100%
Roanoke, Virginia
www.jchs.edu
7/10
Virginia Commonwealth University
Percentage
Campus
Website
Rating
50-100%
Richmond, VA
sahp.vcu.edu
7/10
Mount Mary University
Percentage
Campus
Website
Rating
100%
Milwaukee, Wisconsin
www.mtmary.edu
7/10
University of Wisconsin-Madison
Percentage
Campus
Website
Rating
75-100%
Madison, WI
kinesiology.wisc.edu
7/10