There is only one OT school, which provides occupational therapy education in the state. The Idaho state university is an accredited institute which provides the entry-level master degree, Pre OT courses, and OTA assistant associate degree.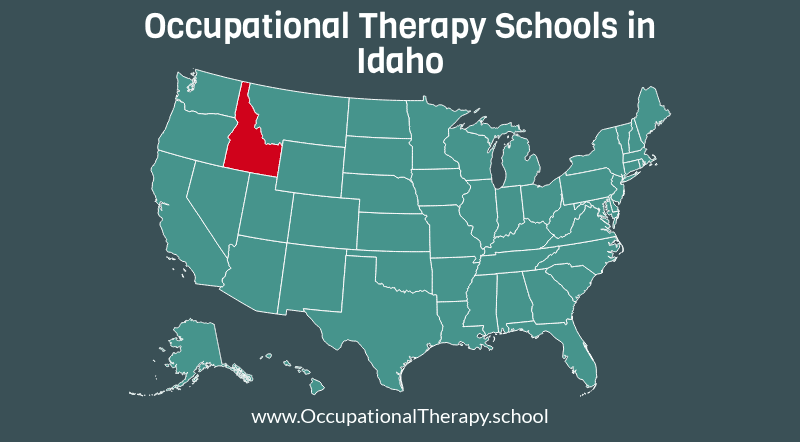 Occupational therapy in Idaho-
Currently, 400 occupational therapists and 90 Occupational therapy assistants are working in the state (According to the Bureau of Labor Statistics, May 2016 report). They are recruited in various settings, including Skilled nursing facility (SNF), general hospital, rehabilitation centers in the state.
Occupational therapy professionals (OT and OTA) have their own state association in the state. The Idaho Occupational Therapy Association (ID-OTA) is officially affiliated with the American Occupational Therapy Association (AOTA). The state OT association promotes the occupational therapy profession and education in the state of Idaho.
The ID-OTA provides state membership and continuing education to occupational therapy professionals. But the ID-OTA is not a licensing authority in the state.
Idaho Bureau of Occupational Licenses-
It is the official body of the state government, which provides a license to the practitioners. The Bureau is responsible for license issuance, verification, renewal. The Bureau also accepts the complaints against the miscreants.
Steps required for Occupational therapy License in Idaho-
The basic educational requirement prescribed by the AOTA is the same nationwide. And it's compulsory to pass the NBCOT exam before applying for the license in the Idaho state.
Get the degree- Master of Occupational therapy or OTD
Pass the NBCOT exam
Apply for the license.
Occupational Therapy school in Idaho- Idaho State University-
Idaho State University is a public research university in Pocatello, Idaho. It was founded 116 years ago in 1901 as the Academy of Idaho. Idaho State University (ISU) offers more than 280 programs at its main campus and at locations in Meridian, Idaho Falls, and Twin Falls. ISU is the state's top institute in health professions and medical education.
Idaho State University provides a Master of Science in Occupational therapy and an Associate degree in occupational therapy Assistant course. This is the single OT school in the state and provides excellent OT education to the students.
OT school entry options-
Students who have earned a bachelor degree go directly into their graduate program. The Master of Occupational Therapy program at ISU is distinguished by:
Small class size (average 14 students);
Personal attention;
100% job placement of graduates;
Good NBCOT exam passing rate.
Undergraduates may begin OT study through the OT school's Bachelor of Science in Health Science program and through the Pre OT – Accelerated Concentration can save one year of the usual course of study.
OTA Associate degree- The OT school has started taking students in the OTA program. Currently, the program has been granted Candidacy status by the Accreditation Council for Occupational Therapy Education (ACOTE) of the AOTA.
Idaho State University

Courses Offered–

Master of Science in Occupational therapy (MSOT)
OTA Associate degree.

University Campus
Pocatello, Idaho
Public or Private-
Public Institute.
Program Director-
Bryan M. Gee, Ph.D.(c), MEd, OTR/L, BCP
Course Duration-
MSOT
Full-time 2.5-year course (total program credits- 88)
Seat capacity
Average of 14 students.
OT Admission
Once a year (Fall)
Application Procedure
Apply through OTCAS or Apply to the University online.
Minimum Requirement (MSOT)

Bachelor's degree (BA/BS);
GPA of 3.0 or better;
Report of the GRE or MAT ( GRE- A total combined score of at least 295 on the verbal and quantitative portions with a minimum of 4.0 on the analytical writing. MAT-Min. total score of 390.);
A minimum of 40 observation hours under a licensed occupational therapist (from 2 different OT practice settings);
3 letters of recommendation (one must be from the occupational therapist who supervised the volunteer hours);
TOEFL score of 550 (paper-based) and 213 (computer based). (for International students only).

Pre-requisite Course work (MSOT)

Human Anatomy and Physiology.
General Chemistry with lab
Human Development (focus over life span); Sociology;
Abnormal psychology;
Cultural Anthropology;
English/Communication ;
Psychology;
Statistics;
Medical Terminology.

Recommended 1 course in each below-mentioned subjects (but not compulsory)-

Fine Arts;
Ethics;
Philosophy;
Education,
Literature,
Humanities;
Economics;
Foreign Language;
History.

Address
Occupational Therapy Program
Campus Box 8045
Pocatello, ID 83209-8045
(800) 797-4781
Email-

[email protected]

Website
www.isu.edu/dpot
Occupational therapist salary in Idaho-
The Annual mean salary for OT- $72,260*
The Annual mean salary for OTA- $58910*
(*According to the Bureau of Labor Statistics, May 2016 report).
The salary may vary depending upon the location, practice setting, and requirement (Full time-part time).