The South Dakota State has only 1 ACOTE accredited Occupational Therapy School, which provides an entry-level Doctor of Occupational therapy program. Plus, the state also has 1 ACOTE accredited Occupational Therapy Assistant (OTA) Schools which provides an associate degree. The license is required to practice as an OT in South Dakota; one can appear for the licensure examination after clearing the OT entry-level degree from accredited OT schools.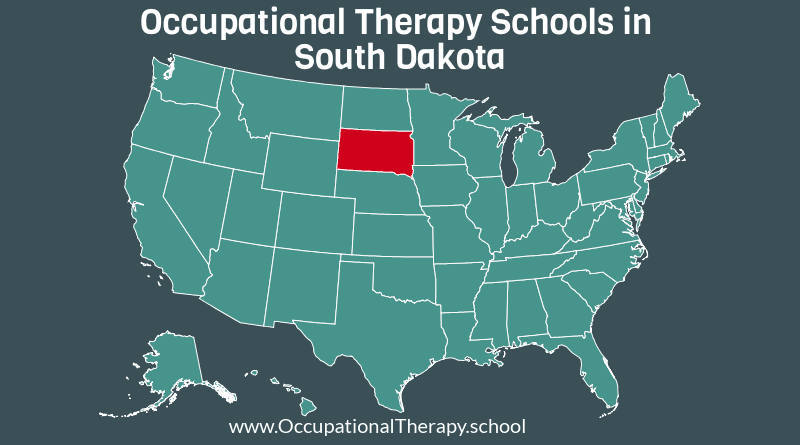 The only Occupational therapy school in South Dakota is-
University of South Dakota (USD)
Occupational therapy in South Dakota-
The occupational therapist, Occupational therapy assistant, and OT/OTA students have their own state association, i.e. SDOTA (South Dakota Occupational Therapy Association).
The SDOTA is a non-profit volunteer organization which provides a professional community for its members. The SDOTA is a state-based professional organization and public voice for the occupational therapy profession in South Dakota.
The main role of the association is to promote the occupational therapy profession, create public awareness, provide support to the therapist in continuing education and improve and maintain the quality of occupational therapy profession in the state of South Dakota. The SDOTA is an affiliated state body of the American Occupational therapy association.
Website – www.sdota.org/         
Occupational therapy License in South Dakota-
Occupational therapist and Occupational therapy Assistants are required to get a license from the South Dakota Board of Medical and Osteopathic Examiners.
Satisfactory completion of both the academic program and fieldwork are required to be eligible to take the Certification Examination of the NBCOT and get license offered by the South Dakota Board of Medical and Osteopathic Examiners. Successful completion of the requirements allows graduates to practice the profession in South Dakota.
The minimum requirements for the license are –
Entry-level master degree or OTD degree
NBCOT exam's passing certificate.
Application fees.
Temporary OT/OTA License:
A temporary license to practice as an occupational therapist (OT) or as an occupational therapy assistant (OTA) may be granted to persons who have completed the educational and experience requirements for licensure and are waiting to take or receive the results of the certification examination. A temporary License void if graduate fails NBCOT and must reapply for temporary Permit. Limited License can be renewed once. Applicant must submit proof he/she is schedule to take the next exam.
Occupational Therapy Schools in South Dakota- a list of OT schools
#1 University of South Dakota (USD)
The Occupational therapy school at USD is the only school offers an entry level degree in occupational therapy. The programs include pre-occupational therapy, Doctor of Occupational therapy (entry-level) and Post-professional Clinical Occupational therapy Doctorate (OTD).
The OT school also offers Occupational Therapy Scholar Program, which allows undergraduate students, beginning in the sophomore year, to apply for acceptance into the occupational therapy program while completing an undergraduate degree. OT Scholars are guaranteed a seat in the OT program in the fall semester after they complete their undergraduate degree.
University of South Dakota
School of Health Sciences
Courses Offered–

Occupational Therapy Doctorate (OTD-entry level)
Occupational Therapy Doctorate (post-professional).

University Campus
Vermillion, SD
Public or Private-
Public Institute.
Chair, OT
Dr. Barbara Brockevelt
Course Duration-
3-year program
Class Size
Around 27 students per year
OT Admission
Once a year (Fall).
Application Procedure
Candidate must apply through OTCAS and a personal interview is necessary for the selection.
Minimum Requirement (OTD)

A bachelor's degree;
Academic preparation and Graduate Record Examination (GRE) scores;
A personal statement;
Work or volunteer experience in OT or related area (recommended minimum of 30 hours in at least 3 different areas of practice);
Community involvement, leadership, and diverse cultural experiences;
Recommendation letters (1 letter must be from a healthcare provider, preferably an OT and 1 letter must be from an instructor or advisor;
A personal interview.

Prerequisites Course work (OTD)

General Biology 1 & 2 with lab;
Human Physiology and Integrated Anatomy I & II;
General Psychology;
Psychology of Abnormal Behavior;
Intro to Sociology or Anthropology;
Statistics;
Statistics in psychological research;
Introduction to Biostatistics & Computational Biology
Lifespan Human Development;
Medical Terminology;
Healthcare Terminology in the Clinical Setting;


Recommended, but not required-

PHYS 111: Introduction to Physics I
OCTH 211: Introduction to Occupational Therapy.

Address
Department of Occupational Therapy
Sanford Coyote Sports Center Room A375A
414 East Clark Street
Vermillion, SD 57069-2390
Email-

[email protected]

Website
www.usd.edu/ot
Occupational Therapy Assistant Program in South Dakota-
#1 Lake Area Technical Institute
Occupational Therapy Assistant Program 
1201 Arrow Avenue
PO Box 0730 
Watertown, SD 57201-0730
Occupational Therapy Jobs in South Dakota-
The outlook for occupational therapy employment is very good in South Dakota. The United States's Bureau of Labor Statistics includes occupational therapy as one of its fastest growing occupations, with registered occupational therapists predicted to have a faster than average growth (21- 36%). Many Health Care Recruitment providers have reported a shortage of occupational therapists and OTA in South Dakota.
According to the Bureau of Labor Statistics, there were about 410 employed and licensed occupational therapists in South Dakota in May 2017. And the requirement of license practitioner is increasing. Huge opportunities are there in South Dakota for the occupational therapist and occupational therapy Assistant.
Occupational Therapy Salary in South Dakota-
As per indeed.com, the average salary of an occupational therapist in South Dakota was 67,000 per annum (in 2017) and According to the Bureau of Labor Statistics, the average annual and hourly income of occupational therapy professionals was $66,990 and $32.21, respectively in May 2017.