The Oklahoma state has 2 ACOTE accredited Occupational therapy Schools which provide an entry-level master degree or Doctoral degree. Plus, the state also has 5 ACOTE accredited Occupational Therapy Assistant (OTA) Schools which provides an associate degree. The license is required to practice as an OT or OTA in the state of Oklahoma and it's compulsory for the graduates of OT schools to apply for the licensure.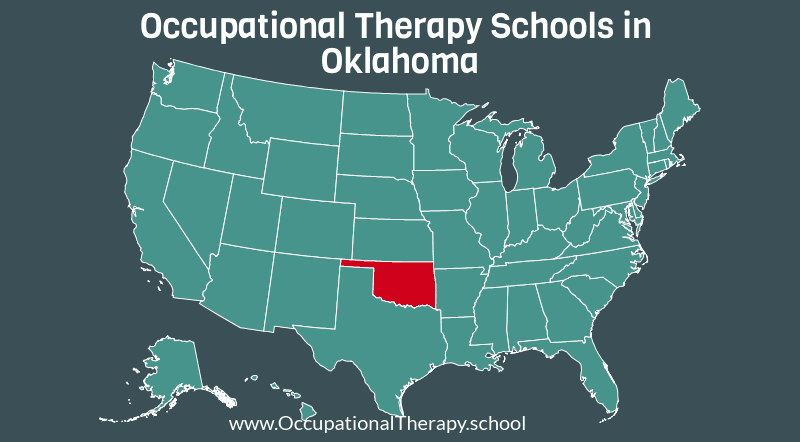 The 2 Occupational therapy schools in Oklahoma are-
Northeastern State University Muskogee Campus
University of Oklahoma at Schusterman Health Sciences Center
Occupational therapy in Oklahoma-
The occupational therapist, Occupational therapy assistant, and OT/OTA students have their own state association, i.e. OKOTA (Oklahoma Occupational Therapy Association).
The OKOTA is a non-profit volunteer organization which provides a professional community for its members. The OKOTA is a state-based professional organization and public voice for the occupational therapy profession in Oklahoma.
The main role of the association is to promote the occupational therapy profession, create public awareness, provide support to the therapist in continuing education and improve and maintain the quality of occupational therapy profession in the state of Oklahoma. The OKOTA is an affiliated state body of the American Occupational therapy association.
Website – www.okota.org
Occupational therapy License in Oklahoma-
Occupational therapist and Occupational therapy Assistants are required to get a license from the Oklahoma Medical Board.
The minimum requirements for the license are –
Entry level master degree or OTD degree
NBCOT exam's passing certificate.
Application fees of $120.
Temporary OT/OTA License:
A temporary license to practice as an occupational therapist (OT) or as an occupational therapy assistant (OTA) may be granted to persons who have completed the educational and experience requirements for licensure and are waiting to take or receive the results of the certification examination.
A temporary letter to OT practice may be authorized prior to licensure provided all requirements for licensure have been met and verified. The practice allowed during this period must be under the supervision of an OT licensed in Oklahoma.
List of Occupational Therapy Schools in Oklahoma-
#1 Northeastern State University Muskogee Campus
The Occupational therapy school at Northeastern State University offers a Master of Science in Occupational Therapy degree, which is a 30-month program. The curriculum of the MSOT program consists of 81 hours and focuses on training high-quality occupational therapists for the rural region of Eastern Oklahoma. In addition to the professional programming within the coursework, cultural sensitivity education to the American Indians served in the local area is integrated throughout the curriculum.
Northeastern State University
Occupational Therapy Program
Course Offered–
Master of Science in Occupational Therapy (entry level)
University Campus
Muskogee, OK
Public or Private-
Public Institute.
Program Director
Dr. Judith Ann Melvin
Course Duration-
30-month program.
Class Size
Max 20 students
OT Admission
Once a year (January).
Application Procedure

Complete the Graduate College Application Form online
Complete the Occupational Therapy Program Application and submit to the Occupational Therapy Program.

Minimum Requirement (MSOT)

An earned bachelor's degree from a Higher Learning Commission accredited college or university;
Completion of all prerequisite courses with a grade of "C" or better;
Have a minimum cumulative GPA of 2.75 on a 4.0 scale;
Documented 40 hours of observation experience prior to application;
Submit an official copy of the Graduate Record Examination score to the Graduate College;
Submit program application to the OT Program by July 1 (includes 2 recommendations from an OT professional, employer, or instructor/professor).

Prerequisite Coursework (MSOT)

Introduction to Psychology;
Abnormal Psychology;
Lifespan Human Development;
Sociology or Anthropology;
Human Anatomy and Physiology;
Medical Terminology or Medical Vocabulary;
Physics I;
Statistics.

Address
Occupational Therapy Program
2400 W. Shawnee Street
Muskogee, OK 74401-2275
Email-

[email protected]

Website
academics.nsuok.edu
#2 University of Oklahoma at Schusterman Health Sciences Center 
The Occupational therapy school at Oklahoma University Health Sciences Center (OUHSC) offers excellent OT education in the state. The program is offered at two campuses:  the Schusterman Center in Tulsa and the OUHSC in Oklahoma City. The OT school offers state of the art facilities and uses cutting edge distance education technology to broadcast lectures between their Oklahoma City and Tulsa campus.
The OT department is only in the country to offer integrated curricula for our Master Degree of Occupational Therapy (MOT) and Doctor of Physical Therapy Degree (DPT) students, which prepares them to become leaders in the changing and challenging health care environment of the 21st Century. 
University of Oklahoma
College of Allied Health.
Courses Offered–

Master of Occupational Therapy (entry level)
Doctor of Science in Rehabilitation Sciences (DSc) (post-professional)
Ph.D. in Allied Health Sciences with Specialization in Rehabilitation Sciences.

University Campuses

Tulsa, OK
Oklahoma City, OK

Public or Private-
Public Institute.
Interim Program Director
Mary Isaacson, EDD, OTR/L, ATP, FAOTA
Course Duration-
2.5 year program
Class Size
32 students
OT Admission
In the Summer of each year
Application Procedure
Applicants must complete both the OTCAS application and the OUHSC application.
Minimum Requirement (MOT)

Complete a bachelor's degree in any discipline;
Be in good standing with the college or university last attending;
Earn at a minimum both a 2.75 CGPA and a 2.75 science grade point average on a 4.0 scale;
Submit any achievements, experiences, licenses, and certifications;
40 hours of occupational therapy observation are required for application;
Submit official transcripts from all colleges and/or universities attended;
Submit Graduate Record Examination (GRE) score;
If English is a second language, submit TOEFL scores (a minimum score of 100 (Internet-based).

Prerequisite Coursework (MOT)

Human Anatomy;
Human Physiology;
Developmental Psychology;
Introduction to Personality or Abnormal Psychology;
Introduction to zoology or concepts in biology;
Medical Vocabulary;
Physics I for Life Science Majors;
Understanding Statistics.

Address

Tulsa Campus-
Schusterman Health Sciences Center
4502 E. 41st Street
Tulsa, OK 74135-2512

Oklahoma City Campus-
Health Sciences Center
College of Allied Health,
1200 N. Stonewall Avenue
Oklahoma City, OK 73117

Email-

[email protected]

Website
alliedhealth.ouhsc.edu
Occupational Therapy Assistant Schools in Oklahoma-
#1 Caddo Kiowa Technology Center/Southwestern Oklahoma State University
Occupational Therapy Assistant Program 
P.O. Box 190 
Fort Cobb, OK 73038 
#2 Indian Capital Technology Center/Connors State College
Occupational Therapy Assistant Program 
Adult Health Careers
2403 North 41st Street East 
Muskogee, OK 74403-188
#3 Murray State College 
Occupational Therapy Assistant Program
One Murray Campus Drive
Tishomingo, OK 73460
#4 Oklahoma City Community College
Occupational Therapy Assistant Program 
7777 South May Avenue 
Oklahoma City, OK 73159-4444 
#5 Tulsa Community College, Metro Campus
Occupational Therapy Assistant Program 
909 South Boston Avenue 
Tulsa, OK 74119-2095 
Occupational Therapy Jobs in Oklahoma-
The outlook for occupational therapy employment is very good in Oklahoma. The United States's Bureau of Labor Statistics includes occupational therapy as one of its fastest growing occupations, with registered occupational therapists predicted to have a faster than average growth (21- 36%). Many Health Care Recruitment providers have reported a shortage of occupational therapists and OTA in Oklahoma. 
According to the Bureau of Labor Statistics, there were about 540 employed and licensed occupational therapists in Oklahoma in May 2017. And the requirement of license practitioner is increasing. Huge opportunities are there in Oklahoma for the occupational therapist and occupational therapy Assistant.
Occupational Therapy Salary in Oklahoma-
As per indeed.com, the average salary of an occupational therapist in Oklahoma was $62,000 per annum (in 2017) and According to the Bureau of Labor Statistics, the average annual and hourly income of occupational therapy professionals were $61,920 and $29.77, respectively in May 2017.