Who is an occupational therapist and what does an OT do?
Occupational therapists (OT) are professionals who provide therapeutic support to persons of all ages (from childhood to elderly). OT works with mental, physical, social or learning disabled, and makes them independent in daily chores or occupational activities.
Occupational therapists treat injured, ill, or disabled patients through the therapeutic use of everyday activities. They help these patients develop, recover, and improve the skills needed for daily living and working.
The Occupational therapist makes an individual treatment plan according to the need of a client and suggest changes to the patient's environment, and may introduce the use of equipment which will help with some activities.
The Occupational therapist makes an individual treatment plan, provide therapy, evaluate progress and make changes in the treatment plan as needed. Occupational therapy Assistant (OTA) helps occupational therapist in evaluation and treatment.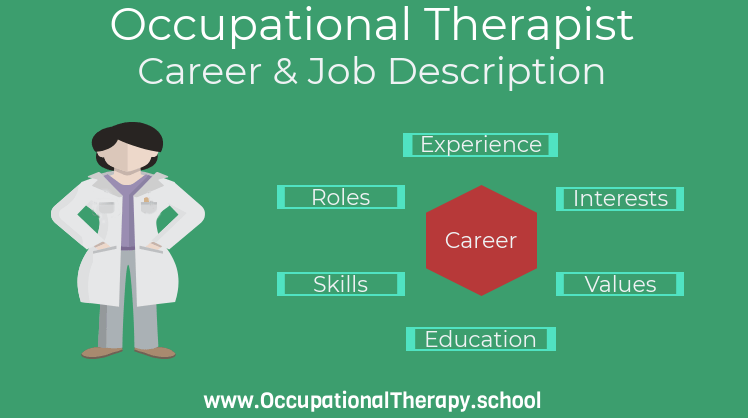 What are occupational therapists responsibilities?
Duties & Responsibilities of an OT-
As OT's work with a diverse range of people who will all have different requirements, OT's need to understand each client's lifestyle so that they can create the best treatment plan for them.
Occupational therapists typically do the following:
To assess, plan, implement and evaluate treatment plans in hospital and in different occupational therapy settings.
To focus and include physical, social, psychological and environmental aspects of a patient while making a treatment plan.
To establish realistic goals with the patient with meaningful outcomes.
To demonstrate the activities or exercises.
To record and maintain the patients progress.
To refer a patient to other specialists (PT, SLP, O&P, Physician and/or surgeon) when needed.
To maintain the occupational therapy setup.
To train or supervise OT or OTA students in an academic setting.
To develop a therapy program to rebuild lost skills (such as fine motor skills) and improve confidence.
If needed, visit the home/ workplace of a client for environmental modification (such as wheelchair pathway).
To educate a patient's family or caretaker about how to take care of the patient.
To assess and record patients' activities and progress for billing, and for reporting to physicians and other healthcare providers.
To train a client in adaptive devices (Such as pencil gripper and long-handled sponge), orthotics/prosthesis (such as ankle-foot orthosis), wheelchair.
To help a client back to work.
What are the skills needed to be an occupational therapist?
You'll need to have:
Good verbal communication and writing skills.
Ready to work in different work time such as morning shift or evening shift.
Good observation skills.
Quick decision-making skills.
Problem-solving skills.
Creative skills needed to create multiple graded activities from a single object or game.
You must be ready to work in a rehabilitation team.
Able to operate a computer.
Must provide psychological support to the client during therapy.
Ability to organize and rearrange work tasks.
What qualifications do you need to be an occupational therapist?
To practice as an occupational therapist in the USA you must be licensed in the working state. In order to get the license, you must successfully complete entry-level program from an Accreditation Council for Occupational Therapy Education (ACOTE) approved occupational therapy School and a licensed examination conducted by the National Board for Certification in Occupational Therapy (NBCOT). See their list of approved courses.
Most occupational therapists enter the profession with a master's degree in occupational therapy. In March 2018, there were 165 occupational therapy programs accredited by the ACOTE, part of the American Occupational Therapy Association (AOTA).
An entry-level program must be a master or a doctorate program. Occupational therapy schools offer entry-level master of occupational therapy (MOT/MSOT) or Doctor of Occupational therapy (OTD) program. A full-time MSOT/MOT lasts 2-2.5 years although part-time or weekend programs lasting around 3 years are available at some institutions. Both master's and doctoral programs require at least 24 weeks of supervised fieldwork, in which OT students gain clinical work experience.
Admission to graduate programs in occupational therapy generally requires a bachelor's degree and specific prerequisites mainly include anatomy, physiology, and psychology. Many programs also require students to have volunteered or worked in an occupational therapy setting.
If you have decided to be an occupational therapist in high school, you can opt for the accelerated program, check the complete list here.
The program combines both academic and fieldwork elements. The fieldwork part has been divided into 2 parts i.e. fieldwork I and Fieldwork II. During fieldwork, you will gain experience in the main areas of occupational therapy and how to assess and treat patients. Study areas cover a range of subjects including biological, psychology and behavioral sciences.
Licenses, Certifications, and Registrations
All states require occupational therapists to pass the national examination administered by the National Board for Certification in Occupational Therapists (NBCOT). To appear for the NBCOT exam, candidates must have earned a degree from an ACOTE accredited educational program and completed all fieldwork requirements.
Occupational Therapists must pass the NBCOT exam to use the title "Occupational Therapist Registered" (OTR). They must also take continuing education (CE) classes to maintain certification.
The AOTA also offers a number of certifications for therapists who want to demonstrate their advanced level of knowledge in a specialty area, such as pediatrics, mental health, or low vision.
Professional development-
Continue education requirement is followed by all medical fraternity and a good way to update practitioner with the recent updates or technology.
In order to remain registered with the state board, you must consider continuing Education (CE) offered by various AOTA approved CE providers. AOTA's CE Units are recognized by NBCOT, state licensure boards, specialty certification providers, and employers. This includes keeping a record of your formal learning, covering courses taken, work-based learning and your experience of delivering patient care.
Each state has different minimum CE requirement for the continuation of license and one has to complete the CE units.
Is Work experience needed to apply for the post of Occupational therapist?
No work experience is required before applying for an entry-level post. But it will be recommended to have a work shadowing/observation under an OTR (registered occupational therapist) in the intended area of practice, such as pediatrics.
Many schools consider work experience or observation under an OTR as a prerequisite for OT school admission. And it is always recommended to see or experience the real field of occupational therapy before choosing it as a full-time career.
Where do Occupational therapists work?
The occupational therapy profession has a heavy demand in big cities and various employers' offers a good salary even for the new OT practitioner.
The employers include:
Public and Private Schools;
Colleges and universities as an assistant/associate professor;
Residential and nursing homes;
community centers;
private OT clinics;
pediatric hospitals/centers;
mental health hospitals/centers;
orthopedic and neurorehabilitation centers;
prisons;
industrial and commercial organizations (including equipment manufacturers and architects);
Public general hospitals.
What is the role of an occupational therapist?
Role of OT in different work settings-
Physical Rehabilitation –
Patients with permanent disabilities, such as cerebral palsy or stroke, often need help performing daily tasks. Therapist demonstrates patients how to use appropriate adaptive equipment, such as leg braces, wheelchairs, and eating aids. These adaptive devices help patients perform a number of daily tasks, allowing them to function more independently.
School based OT Settings-
Some occupational therapists work with children in educational settings. The students may have issues of learning disability or ADHD or Autism spectrum disorder (ASD). They evaluate children's abilities, modify classroom equipment to accommodate children with certain disabilities, and help children participate in school activities.
Early Intervention-
Some therapists provide early intervention therapy to infants and toddlers who have or are at risk of having developmental delays.
Home Visit or community settings-
Therapists who work with the elderly help their client to lead more independent and active lives. They assess patients' abilities and environment and make recommendations. For example, therapists may identify potential fall hazards in a patient's home and recommend their removal or alterations.
Office Ergonomics-
Some occupational therapists work as a consultant in Ergonomics, they help the client to build an ergonomically efficient and better workplace for companies or corporate offices. They evaluate the workspace, plan work activities, and meet with the client and workers to collaborate on changes to the work environment as needed, such as the height of table and chair, the position of a laptop or equipment.
Mental Health-
Occupational therapists also work in mental health settings where they help patients who suffer from, mental illness, or emotional problems. They help these patients cope with, and engage in, daily life by teaching skills such as time management, budgeting, and doing household chores. In addition, therapists may work with individuals who have problems with drug abuse, alcoholism, depression, or other disorders. They may also work with people who have been through a traumatic event.
Hospitals-
Occupational therapists also work in hospitals, work as part of a healthcare team along with doctors, registered nurses, and other types of therapists such as a physical therapist or speech therapist. They may work with patients with acute to chronic conditions, such as cancer, or help rehabilitate a patient recovering from a hip replacement surgery. Occupational therapists also oversee the work of occupational therapy assistants and aides.
JOB DESCRIPTION
Occupational therapists assess and apply therapeutic, vocational and rehabilitative treatments for people who suffer from physical disabilities, mental health problems, and learning difficulties. The primary objective of occupational therapy intervention is to help patients lead normal lives and carry out daily activities.
Occupational therapy is an important form of treatment for people of all age groups and can be used to alleviate the incapacitating effects of congenital disabilities and disorders caused by accidents, trauma, abuse, aging or disease.
An occupational therapist conducts a complete and comprehensive assessment of patients' abilities/disabilities and their life and work habits.
After the assessment, therapists design and develop rehabilitation plans, which are likely to involve re-learning basic life skills and making adjustments to patients' homes and working environments.
After a certain period of therapy, therapists periodically review treatment program, assessing the progress of patients, and making appropriate additions or changes where necessary.
Work Environment-
Occupational therapists held about 130,400 jobs in 2016. The industries that employed the most occupational therapists in 2016 were as follows:
Hospitals; state, local, and private
26%
Offices of physical, occupational and speech therapists,
and audiologists
24%
Elementary and secondary schools; state, local, and private
10%
Nursing care facilities (skilled nursing facilities)
9%
Home healthcare services
8%
Therapists spend a lot of time on their feet while working with clients. They also may be required to lift and move patients or heavy equipment.
Work Schedules
Most occupational therapists worked full time in 2016. About 1 out of 3 worked part time. They may work nights or weekends, as needed, to accommodate patients' schedules.
WORKING HOURS
Occupational therapists tend to work a regular five-day week. The OT typically work a 38-40 hour per week but may need to be flexible over a seven-day period. In private practice, OT may work evenings and weekends to suit client needs. Part-time and other flexible working arrangements are possible.
Career prospects
A newly qualified occupational therapist may begin practicing as an OT in any specialties. Some specialties may require additional certification like hand therapy certification, sensory integration certification, etc.
To progress up the pay scale, OT must show that he/she can effectively apply the required knowledge and skills.
With significant experience, OT could become a consultant occupational therapist in a senior clinical leadership role with the highest level of clinical responsibility. Consultant occupational therapists work in a range of clinical practice areas, including pediatrics, mental health, and learning disabilities. They have a wider role in influencing and driving strategic and organizational development.
If interested in research, OT can do post-professional OTD or Ph.D. in OT. A Ph.D. holder has good opportunities in research and academics.
Job Outlook
Employment of occupational therapists (OT) is projected to grow 24 percent from 2016 to 2026, much faster than the average for all occupations. Occupational therapy will continue to be an important part of treatment for people with various illnesses and disabilities, such as Alzheimer's disease, cerebral palsy, autism, learning disabilities or amputation. However, the demand for occupational therapy services is related to the ability of patients to pay, either directly or through health insurance.
The need for occupational therapists is expected to increase as people want to be more independent and remain active in all phases of life. Occupational therapists can help senior citizens maintain their independence by recommending home modifications, providing adaptive devices and strategies that make daily activities easier. Therapists also play a role in the treatment of many conditions and ailments commonly associated with aging, such as arthritis, dementia, and stroke.
Occupational therapists needed in a variety of healthcare settings to treat patients from acute (such as positioning for stroke patient) to chronic conditions (such as diabetes). Patients may continue to seek OT intervention for long-term disabilities and illnesses, either in their homes or in residential care environments. These patients may need occupational therapy to become more independent and to perform a variety of daily tasks (such as dressing, personal hygiene).
Demand for occupational therapy services will continue to be needed in schools to assist children with autism or ASD in improving their social skills and accomplishing a variety of daily tasks.
Job opportunities are good for licensed occupational therapists (OTR) in all settings, particularly in the acute hospital, rehabilitation, and orthopedic settings because the elderly receive most of their treatment in these settings. Pediatric rehab and School-based OT needs growing fast. Occupational therapists with specialized knowledge in a treatment area also will have a better job and pay prospects.
Employment projections data for occupational therapists, 2016-26

SOURCE: U.S. Bureau of Labor Statistics, Employment Projections program

Occupational Title

Employment, 2016

Projected Employment, 2026

Change, 2016-26

Percent

Numeric

Occupational therapists

130,400

161,400

24

31,000
How much does an occupational therapist make a year?
The median annual wage for occupational therapists (OT) was $83,200 in May 2017. The median wage is the wage at which half the Occupational therapists earned more than that amount and half earned less. The lowest 10 percent earned less than $54,570, and the highest 10 percent earned more than $120,440.
In May 2017, the median annual wages for occupational therapists in the top 5 industries in which they worked were as follows:
Nursing care facilities (skilled nursing facilities)
$90,980
Home healthcare services
$87,680
Offices of physical, occupational and speech therapists,
and audiologists
$85,200
Hospitals; state, local, and private
$83,360
Elementary and secondary schools; state, local, and private
$73,270
SOURCE-
https://www.bls.gov/ooh/healthcare/occupational-therapists.htm