The Utah State has only 1 ACOTE accredited Occupational Therapy School which provides an entry-level Master of Occupational therapy program. Plus, the state also has 2 ACOTE accredited Occupational Therapy Assistant (OTA) Schools which provides an associate degree. The license is required to practice as an OT in Utah; one can appear for the licensure examination after clearing the OT entry-level degree from accredited OT schools.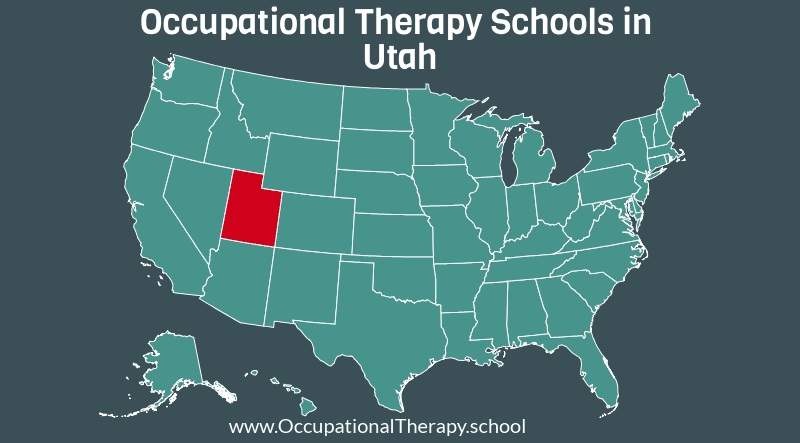 The only Occupational therapy school in Utah is-
The University of Utah
Occupational therapy in Utah-
The occupational therapist, Occupational therapy assistant, and OT/OTA students have their own state association, i.e. UOTA (Utah Occupational Therapy Association).
The UOTA is a non-profit volunteer organization which provides a professional community for its members. The UOTA is a state-based professional organization and public voice for the occupational therapy profession in Utah.
The main role of the association is to promote the occupational therapy profession, create public awareness, provide support to the therapist in continuing education and improve and maintain the quality of occupational therapy profession in the state of Utah. The UOTA is an affiliated state body of the American Occupational therapy association.
Website – UtahOTassociation.org
Occupational therapy License in Utah-
Occupational therapist and Occupational therapy Assistants are required to get a license from the Utah Occupational Therapy Board.
Satisfactory completion of both the academic program and fieldwork are required to be eligible to take the Certification Examination of the NBCOT and get license offered by the Utah Division of Occupational and Professional Licensing. Successful fulfillment of the requirements allows graduates to practice the profession in Utah.
The minimum requirements for the license are –
Entry-level master degree or OTD degree
NBCOT exam's passing certificate.
Must pass the Utah Occupational Therapy Law and Rule Exam.
Must provide SSN.
A minimum of 24 weeks of supervised fieldwork as an Occupational Therapist.
Temporary OT/OTA License:
No temporary license is given by the NCBOT to practice as an occupational therapist (OT) or as an occupational therapy assistant (OTA) in Utah.
State
Occupational Therapy Schools in Utah
#1 The University of Utah
The OT department at the University of Utah's College of Health offers an entry-level Master of Occupational Therapy degree. In addition, School also offers a post-professional Clinical Doctorate of Occupational Therapy degree and a Ph.D. in Rehabilitation Science.
The OT school is trying to change the current entry-level master degree to an entry-level clinical doctorate in Occupational therapy. Mostly the entry-level OTD program will begin from Fall 2021.
The OT Department fosters opportunities for inter-professional education, research, and clinical practice that better prepares students to deal with health care teams.
The University of Utah
College of Health
Course Offered–
Master of Occupational Therapy (MOT-entry level)
University Campus
Salt Lake City, UT
Public or Private-
Public Institute.
Associate Professor
Beth Cardell, Ph.D.
Course Duration-
2 & 1/2-year program
Class Size
Around 34 students per year
OT program begins
Once a year (Fall).
Application Procedure
A candidate must apply through the OTCAS.
Minimum Requirement

A bachelor's degree from an accredited institution of higher learning;
You must earn a CGPA of 3 or higher on a scale of 4;
A minimum of 50 contact hours in at least 2 settings with a minimum of 8 hours in one setting;
GRE official test results;
TOEFL Test if English is not an applicant's first language, students must achieve a score of at least 90-91 (IBT);
Official university transcripts submitted directly to OTCAS;
Three letters of reference electronically submitted to OTCAS. At least 1 reference must be from an OT under whom observation hours were spent. The other references must come from an individual who knows the applicant professionally (employer, professor, etc.).

Prerequisites Course work

One course in kinesiology, biomechanics or general/college physics.
Human Anatomy with lab;
Human Physiology;
Abnormal psychology;
Human Development through Lifespan or Developmental Psychology through the Lifespan;
Cultural Anthropology;
Sociology or Health Ed or Special Ed or Gerontology;
Statistics;
Medical Terminology;
Studio Arts Course – one course in an area of arts or crafts (painting, pottery, knitting, woodworking, etc).

Address
Department of Occupational and Recreational Therapies
520 Wakara Way
Salt Lake City, UT 84108-1290
Email-

[email protected]

Website
health.utah.edu
Occupational Therapy Assistant Schools in Utah-
#1 Ameritech College of Healthcare
Occupational Therapy Assistant Program
12257 Business Park Drive, Suite 100
Draper, UT 84020-6540
Email- [email protected]
www.ameritech.edu
#2 Salt Lake Community College
Occupational Therapy Assistant Program
Mail Code: JHS
3491 W. Wights Fort Road
West Jordan, UT 84088
Email- [email protected]
www.slcc.edu/ota
Occupational Therapy Jobs in Utah-
The outlook for occupational therapy employment is very good in Utah. The United States' Bureau of Labor Statistics includes occupational therapy as one of its fastest-growing occupations, with registered occupational therapists predicted to have a faster than average growth (21- 36%). Many Health Care Recruitment providers have reported a shortage of occupational therapists and OTA in Utah.
According to the Bureau of Labor Statistics, there were about 900 employed and licensed occupational therapists in Utah in May 2018. And the requirement of license practitioner is increasing. Huge opportunities are there in Utah for the occupational therapist and occupational therapy Assistant.
Occupational Therapy Salary in Utah-
As per indeed.com, the average salary of an occupational therapist in Utah was 80,000 per annum (in 2017) and According to the Bureau of Labor Statistics, the average annual and hourly income of occupational therapy professionals was $85,300 and $41.01, respectively in May 2018.