How will you know if occupational therapy is right for you or not?
Introduction-
Occupational therapy is a wonderful profession, but every profession has its pros and cons. The occupational therapy (OT) profession is a part of the rehabilitation field. Physical, psychosocial, and mental rehabilitation is the mainstream of the profession. The OT professionals are registered practitioner, who deals with the various physical, mental and psychosocial problems of patients in daily life.
An Occupational therapist helps a patient to regain his/her functional skills, such as occupational tasks, kitchen works, dressing, etc.
Sounds good! Wait! An Occupational therapist has a different role and function in different OT service areas.
Many career options are available in healthcare and if you are interested in Occupational therapy and don't have any idea what occupational therapy is, try to put enough thought into it, and you will increase your chances of making a good decision.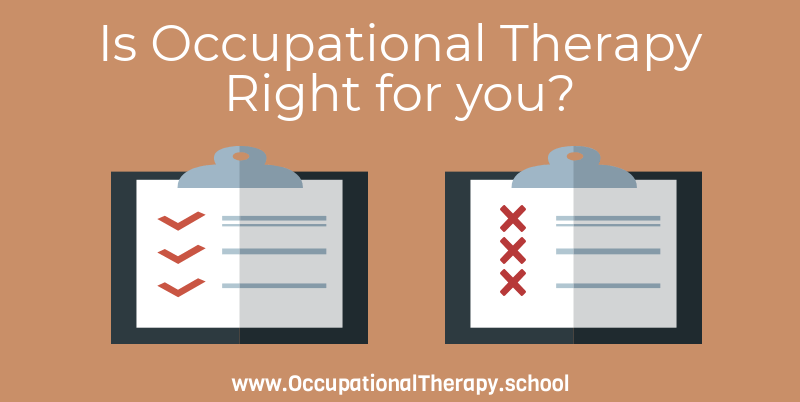 1. Assess Yourself-
Before you can choose an OT as your career, you must learn about yourself. Your values, interests, soft skills, and aptitudes, and check whether it's getting rightly fit for the OT profession.
OT profession and school demand some technical standards such as good observation skills, communication skills, motor functions and strength, mobility, good vision, Intellectual, Conceptual, Integrative, and Quantitative Abilities, Behavioral and Social Abilities, and good health.
2. Explore the profession-
Now get some basic information about occupational therapy. You must find job descriptions or job outlook and educational, training and licensing requirements in published sources.
You can ask others like your family doctor, friends, and teacher about the OT profession. You may visit an OT school and discuss your queries with the school coordinator or professor.
3. Consult or observe Occupational therapist-
It is always recommended that you must visit an occupational therapy clinic and observe what OT do and ask them about the occupational therapy profession. You also check the current vacancy of OT in your area and salary given by the employer. If you are satisfied with your queries then take admission in any entry-level OT program.
You can also compare occupational therapy with related health professions like physical therapy (PT), a speech-language pathologist (SLP), and clinical psychologist. It's better to do homework of selection of one profession before taking admission in the college.
4. Which area of OT practice you like the most-
You can explore the various practice areas of OT profession such as mental health, school-based, pediatric rehab, Ortho or Neuro rehab, etc. you can get information online or by visiting therapy clinics. Most preferable and demanding practice areas are hospital setup and Rehabilitation centers.
5. Future prospective of Occupational therapy-
You must look for the future prospects of the OT profession because you need to complete the educational and licensing requirement (it takes 3-4 year) before starting a career as an occupational therapist. And when you will start your career, the requirement of OT professionals must be in the same position or in high demand.
Good news! According to the Bureau of Labor Statistics, Employment of occupational therapists is projected to grow 24 percent from 2016 to 2026, much faster than the average for all occupations. Occupational therapy will continue to be an important part of treatment for people with various illnesses and disabilities, such as Stroke, cerebral palsy, autism, or depression.