The West Virginia State has only 1 ACOTE accredited Occupational therapy School, which provides an entry-level Doctor of Occupational therapy program. Plus, the state also has 1 ACOTE accredited Occupational Therapy Assistant (OTA) Schools which provides an associate degree. The license is required to practice as an OT in West Virginia; one can appear for the licensure examination after clearing the OT entry-level degree from accredited OT schools.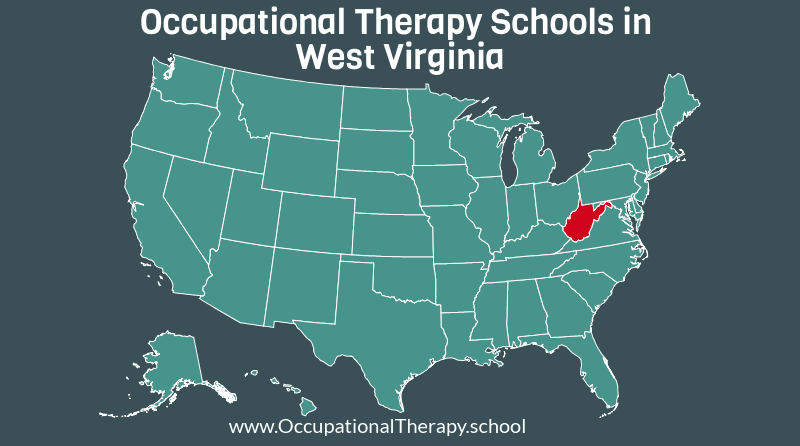 The only Occupational therapy school in West Virginia is-
West Virginia University (WVU)
Occupational Therapy in West Virginia-
The occupational therapist, Occupational therapy assistant, and OT/OTA students have their own state association, i.e. WVOTA (West Virginia Occupational Therapy Association).
The WVOTA is a non-profit volunteer organization which provides a professional community for its members. The WVOTA is a state-based professional organization and public voice for the occupational therapy profession in West Virginia.
The main role of the association is to promote the occupational therapy profession, create public awareness, provide support to the therapist in continuing education and improve and maintain the quality of occupational therapy profession in the state of West Virginia. The WVOTA is an affiliated state body of the American Occupational therapy association.
Website – www.WVOTA.org
Occupational therapy License in West Virginia-
Occupational therapist and Occupational therapy Assistants are required to get a license from the West Virginia Board of Occupational Therapy.
Satisfactory completion of both the academic program and fieldwork are required to be eligible to take the Certification Examination of the NBCOT and get license offered by the West Virginia Board of Occupational Therapy. Successful fulfillment of the requirements allows graduates to practice the profession in West Virginia.
The minimum requirements for the license are –
Entry-level master degree or OTD degree
NBCOT exam's passing certificate.
Application fees of $150 (OT) and $100 (OTA).
Temporary OT/OTA License:
A temporary license to practice as an occupational therapist (OT) or as an occupational therapy assistant (OTA) may be granted to persons who have completed the educational and experience requirements for licensure and are waiting to take or receive the results of the certification examination.
Limited/temporary Permits are valid 90 days from the date of issuance. There is no provision to extend, renew, or re-issue a limited permit. Please carefully consider your timing to coordinate your limited permit application/practice with your selected testing date. Limited license immediately becomes null and void in the event of test failure notification.
A Limited Permit Application fee- $120
Occupational therapy Programs in West Virginia-
#1 West Virginia University (WVU)
The Occupational therapy school is an integral part of the WVU School of Medicine and is part of a connected community of students, teachers, staff, practitioners, and researchers who value health and wellness.
The OT school offers 3-year entry-level Master of Occupational therapy degree. Now, the MOT program is being transitioned to the OTD program. Students applying to WVU in the fall of 2018 will follow the MOT program path. Students apply after this will follow the OTD program path. As part of this transition, the school anticipates accepting the first class of OTD students in June of 2021.
The Master in Occupational Therapy program offered at WVU is different than other OT schools. Here, the type of program is known as a 2 + 3. Students typically complete 2 years of pre-requisite courses and then apply to the program. Once admitted students complete an additional 3 years, two years undergraduate followed by one year of graduate studies. Students receive 2 degrees while in the program, a Bachelor of Arts in Human Performance and Health and a Masters of Occupational Therapy.
West Virginia University
School of Medicine
Course Offered–
Master of Occupational Therapy (MOT-entry level)
University Campus
Morgantown, WV
Public or Private-
Public Institute.
Interim Chair OT
Anne Cronin, Ph.D., OTR/L, ATP, FAOTA
Course Duration-
3-year program
Class Size
Around 40-45 students per year
OT program begins
Once a year (Fall)
Application Procedure
A candidate must apply through the online application to the WVU. An admission interview is necessary for the students.
Minimum Requirement

Students may be admitted with 2 years of designated prerequisite courses, a baccalaureate degree is not required.
A minimum overall and prerequisite GPA of 3.0;
60 hours of volunteer/shadowing experience with two different licensed OT's;
Two recommendations from supervising occupational therapists.

Prerequisites Course work.

*1 credit hours
**2 credit hours
*** 3 credit hours
**** 4 credit hours

ENGL 101*** – English 1;
ENGL 102*** – English 2;
PSYC 101*** – Introduction to Psychology;
PSYC 241*** – Introduction To Human Development;
PSYC 281*** – Abnormal Psychology;
SOCA 101, or 105*** – Introduction to Sociology OR Intro. to Anthropology;
BIOL 101 & 103**** – General Biology I & Lab;
BIOL 102 & 104**** – General Biology II & Lab;
PHYS 101**** – Introductory Physics I
STAT 211*** – Elementary Statistical Inference;
COMM 100* – Principles of Human Communications;
COMM 102** – Human Communication in the Interpersonal Context;
PSIO 241**** – Human Physiology;
OTH 201* – Medical Terminology for OT.

Address
Division of Occupational Therapy
8305 Health Sciences South,
1 Medical Center Drive
PO Box 9139
Morgantown, WV 26506-9139
Email-

[email protected]

Website
hsc.wvu.edu
Occupational Therapy Assistant Schools in West Virginia
#1 University of Charleston-Beckley
School of Health Sciences
Occupational Therapy Assistant Program
158 Dye Drive
Beckley, WV 25801-2636
Occupational Therapy Jobs in West Virginia-
The outlook for occupational therapy employment is very good in West Virginia. The United States's Bureau of Labor Statistics includes occupational therapy as one of its fastest growing occupations, with registered occupational therapists predicted to have a faster than average growth (21- 36%). Many Health Care Recruitment providers have reported a shortage of occupational therapists and OTA in West Virginia.
According to the Bureau of Labor Statistics, there were about 610 employed and licensed occupational therapists in West Virginia in May 2017. And the requirement of license practitioner is increasing. Huge opportunities are there in West Virginia for the occupational therapist and occupational therapy Assistant.
Occupational Therapy Salary in West Virginia-
As per indeed.com, the average salary of an occupational therapist in West Virginia was 85,000 per annum (in 2017) and According to the Bureau of Labor Statistics, the average annual and hourly income of occupational therapy professionals was $85,090 and $40.91, respectively in May 2017.