The Kansas state has only 1 ACOTE accredited Occupational therapy School, which provides an entry-level master degree. Plus, the state also has 3 ACOTE accredited Occupational Therapy Assistant (OTA) Schools which provides an associate degree. The license is required to practice as an OT or OTA in the state of Kansas and it's compulsory for the graduates of OT schools to apply for the licensure.
The only Occupational therapy school in Kansas is the University of Kansas Medical Center.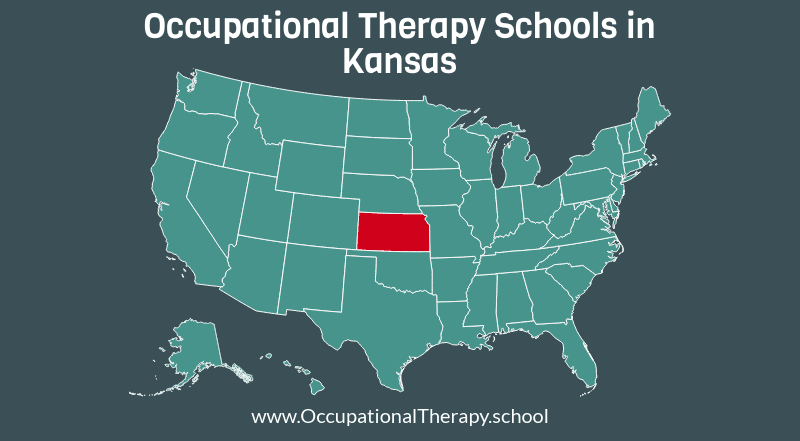 Occupational therapy in Kansas-
The occupational therapist, Occupational therapy assistant, and OT/OTA students have their own state association, i.e. KOTA (Kansas Occupational Therapy Association).
The KOTA is a non-profit volunteer organization which provides a professional community for its members. The KOTA is a state-based professional organization and public voice for the occupational therapy profession in Kansas.
The main role of the association is to promote the occupational therapy profession, create public awareness, provide support to the therapist in continuing education and improve and maintain the quality of occupational therapy profession in the state of Kansas. The KOTA is an affiliated state body of the American Occupational therapy association.
Website – www.kotaonline.org
Occupational therapy License in Kansas-
Occupational therapist and Occupational therapy Assistants are required to get a license from the Kansas Board of healing arts.
The minimum requirements for the license are –
Entry level master degree or OTD degree
NBCOT exam's passing certificate.
Application fees of $80.
Temporary OT/OTA Permit:
A temporary permit to practice as an occupational therapist (OT) or as an occupational therapy assistant (OTA) in Kansas may be granted to persons who have completed the educational and experience requirements for licensure and are waiting to take or receive the results of the certification examination. The limited permit is valid for 12 months or until the date on which the results of the certification examination are made available.
Occupational therapy School Overview-
University of Kansas Medical Center-
The Occupational Therapy School is located on the KU Medical Center campus in Kansas City, Kansas. The OT school offers three OT programs:
Master of Occupational Therapy (MOT)
This is a 3-year degree program for the students having a bachelor's degree. Graduates are eligible to take the national certification examination to obtain OT licensure.
Doctor of Occupational Therapy (OTD)
This program is a post-professional OTD program. This online doctoral program is designed for practicing occupational therapists having a master's degree in occupational therapy from an accredited program and current license to practice as an occupational therapist.
Ph.D. in Therapeutic Science
The OT school also offers a Ph.D. in Therapeutic Science.
The Occupational therapy School is in partnership with the Autism Speaks, the KU school of Occupational Therapy developed the Sensory Enhanced Aquatics program to teach swimming and water safety to children with ASD.
***Latest- Recently, the KU school of OT has applied for the Entry level Doctor of Occupational Therapy program. The current status of the program is having "applicant" status by the ACOTE of AOTA.
University of Kansas Medical Center
Courses Offered–

Master of Occupational Therapy (entry level)
Doctor of Occupational Therapy (Post-professional)

University Campus
Kansas City, Kansas
Public or Private-
Public Institute.
Department Chair-
Carrie Ciro, Ph.D., OTR/L, FAOTA
Course Duration-
MOT
3-year program (including fieldworks).
Seat capacity
Approx 37 students
OT Admission
Once a year (Fall)
Application Procedure
Step 1- Submit an application through OTCAS.
Step2- Submit an online application to KU medical center.
Minimum Requirement (MOT)

A bachelor's degree;
GPA of 3.2 or better in all college coursework;
A minimum of 10 observation hours under licensed OT or OTA in two different settings;
3 letters of recommendation;
A Personal Statement.
CPR Certification;
Background check

Pre-requisite Coursework

Anatomy & Physiology I with lab;
Human Development;
Ethics;
Abnormal Psychology;
Statistics.

Address
Department of Occupational Therapy Education
3901 Rainbow Boulevard – 3033 Robinson, MS 2003
Kansas City, KS 66160-7602
Email- 

[email protected]

Website
www.ot.kumc.edu
Kansas OTA schools-
#1 Neosho County Community College, Ottawa Campus
Occupational Therapy Assistant Program
Outreach and Workforce Development
900 E. Logan Street
Ottawa, KS 66067
Status: Accreditation
#2 Newman University
Occupational Therapy Assistant Program
3100 McCormick Avenue
Wichita, KS 67213-2097
Status: Accreditation
#3 Washburn University
Occupational Therapy Assistant Program
School of Applied Studies, Department of Allied Health
1700 SW College Avenue
Topeka, KS 66621-0001
Status: Accreditation
The Occupational Therapy jobs in Kansas-
The outlook for occupational therapy employment is very good in Kansas. The United States's Bureau of Labor Statistics includes occupational therapy as one of its fastest-growing occupations, with registered occupational therapists predicted to have a faster than average growth (21- 36%). Many Health Care Recruitment providers have reported a shortage of occupational therapists and OTA in Kansas.
According to the Bureau of Labor Statistics, there were about 1,170 employed and licensed occupational therapists in Kansas in May 2016 and the requirement of license practitioner is increasing. Huge opportunities are there in Kansas for the occupational therapist and occupational therapy Assistant.
Occupational Therapy Salary in Kansas-
As per indeed.com, the average salary for an occupational therapist in Kansas was $80,000 per annum (in 2016) and According to the Bureau of Labor Statistics, the average annual and hourly income of occupational therapy professionals were $79,810 and $38.37, respectively in May 2016.