The Mississippi state has only 1 ACOTE accredited Occupational therapy School, which provides an entry-level Doctor of Occupational Therapy (OTD) degree. Plus, the state also has 3 ACOTE accredited Occupational Therapy Assistant (OTA) Schools which provides an associate degree. The license is required to practice as an OT or OTA in the state of Mississippi and it's compulsory for the graduates of OT schools to apply for the licensure.
The only Occupational therapy school in Mississippi is the University of Mississippi Medical Center.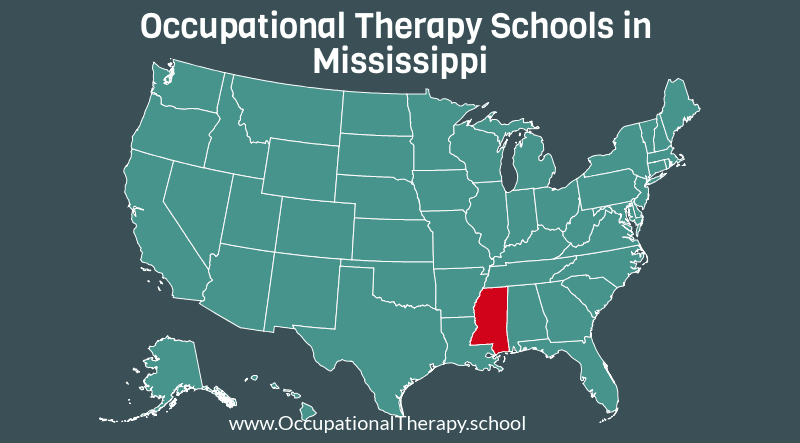 Occupational therapy in Mississippi-
The occupational therapist, Occupational therapy assistant, and OT/OTA students have their own state association, i.e. MOTA (Mississippi Occupational Therapy Association).
The MOTA is a non-profit volunteer organization which provides a professional community for its members. The MOTA is a state-based professional organization and public voice for the occupational therapy profession in the Mississippi.
The main role of the association is to promote the occupational therapy profession, create public awareness, provide support to the therapist in continuing education and improve and maintain the quality of occupational therapy profession in the state of Mississippi. The MOTA is an affiliated state body of the American Occupational therapy association.
Website – www.mississippiota.org
Occupational therapy License in Mississippi-
Occupational therapist and Occupational therapy Assistants are required to get a license from the Mississippi State Department of Health.
The minimum requirements for the license are-
Entry-level master degree or OTD degree
NBCOT exam's passing certificate.
Fees- 1) Application fee – $100.00; and 2) License fee – OT – $150.00; OTA – $100.00
Temporary OT/OTA License:
A temporary license to practice as an occupational therapist (OT) or as an occupational therapy assistant (OTA) in Mississippi may be granted to persons who have completed the educational and experience requirements for licensure and are waiting to take or receive the results of the certification examination. The temporary license is valid for 3 months or until the date on which the results of the certification examination are made available.
Occupational Therapy Schools in Mississippi-
The OT school offers the only degree for occupational therapists in Mississippi. As the single educator of occupational therapists in Mississippi, it is critical that the UMMC occupational therapy department offers a rigorous degree program that keeps pace with national developments.
The MOT program is fully accredited by the ACOTE, but now the UMMC Department of Occupational Therapy is completing the necessary steps to transition from a master's level degree (MOT) program to a doctoral-level degree (OTD) program. They will accept first doctoral-level students batch in summer 2018 (if candidacy status is granted by the ACOTE).
The University of Mississippi Medical Center
School of Health Related Professions
Course Offered–
Doctor of Occupational Therapy (OTD)
University Campus
Jackson, Mississippi
Public or Private-
Public Institute.
Professor-
Giroux, Peter, BS, MHS, Ph.D.
Course Duration-
OTD- 3-year program (127 credit hours).
Class Size
40 students per year.
OT Admission
Once a year (Summer).
Application Procedure
 Submit an online application to the Office of Student Records and Registrar, UMMC.
Minimum Requirement (OTD)

A bachelor's degree;
GPA of 3.0 or better in all college coursework;
GRE score- required (no minimum score required);
Must provide evidence of 24 hours of observation under an OT/OTA in at least 3 OT setup.

Prerequisite Course work (OTD)

Anatomy and Physiology with lab;
General Psychology;
Statistics;
Human Growth and Development of developmental psychology;
Physics with lab;
Advanced Physical or Biological Science.

Address
Department of Occupational Therapy
2500 North State Street
Jackson, MS 39216-4505
Email- 

[email protected]

Website
www.umc.edu
Mississippi Occupational therapy Assistant Program
#1 Holmes Community College, Ridgeland Campus
Occupational Therapy Assistant Program
412 West Ridgeland Avenue
Ridgeland, MS 39157
#2 Itawamba Community College, Tupelo Campus
Occupational Therapy Assistant Program
2176 South Eason Boulevard
Tupelo, MS 38804
#3 Pearl River Community College
Occupational Therapy Assistant Program
5448 U.S. Highway 49 South
Hattiesburg, MS 39401-7806
(601) 554-5507
Occupational Therapy jobs in Mississippi-
The outlook for occupational therapy employment is very good in Mississippi. The United States's Bureau of Labor Statistics includes occupational therapy as one of its fastest-growing occupations, with registered occupational therapists predicted to have a faster than average growth (21- 36%). Many Health Care Recruitment providers have reported a shortage of occupational therapists and OTA in Mississippi.
According to the Bureau of Labor Statistics, there were about 910 employed and licensed occupational therapists in Mississippi in May 2016 and the requirement of license practitioner is increasing. Huge opportunities are there in Mississippi for the occupational therapist and occupational therapy Assistant.
Occupational Therapy Salary in Mississippi-
As per indeed.com, the average salary of an occupational therapist in Mississippi was $80,000 per annum (in 2016) and According to the Bureau of Labor Statistics, the average annual and hourly income of occupational therapy professionals were $80,980 and $38.9, respectively in May 2016.