The New Mexico state has 2 ACOTE accredited Occupational therapy Schools which provide an entry-level master degree. Plus, the state also has 4 ACOTE accredited Occupational Therapy Assistant (OTA) Schools which provides an associate degree. The license is required to practice as an OT or OTA in the state of New Mexico and it's compulsory for the graduates of OT schools to apply for the licensure.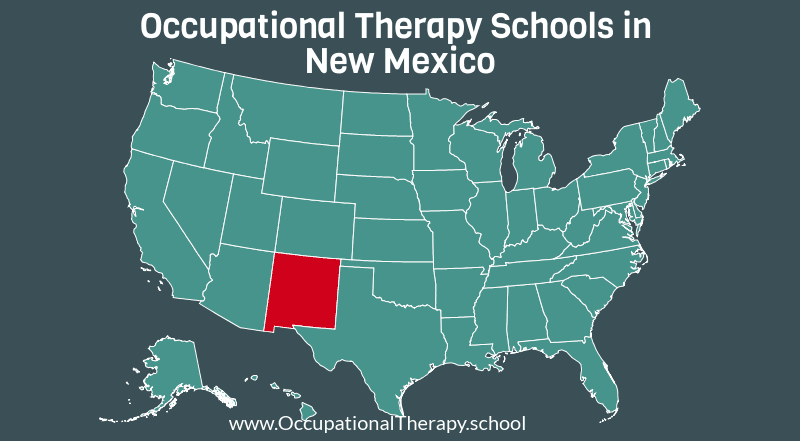 The 2 Occupational therapy schools in New Mexico are-
University of New Mexico;
Western New Mexico University.
Occupational therapy in New Mexico-
The occupational therapist, Occupational therapy assistant, and OT/OTA students have their own state association, i.e. NMOTA (New Mexico Occupational Therapy Association).
The NMOTA is a non-profit volunteer organization which provides a professional community for its members. The NMOTA is a state-based professional organization and public voice for the occupational therapy profession in New Mexico.
The main role of the association is to promote the occupational therapy profession, create public awareness, provide support to the therapist in continuing education and improve and maintain the quality of occupational therapy profession in the state of New Mexico. The NMOTA is an affiliated state body of the American Occupational therapy association.
Website – www.nmota.org
Occupational therapy License in New Mexico-
Occupational therapist and Occupational therapy Assistants are required to get a license from the New Mexico's Regulation and Licensing Department.
The minimum requirements for the license are –
Entry-level master degree or OTD degree
NBCOT exam's passing certificate.
Application fees of $110.
Temporary OT/OTA License :
A provisional license to practice as an occupational therapist (OT) or as an occupational therapy assistant (OTA) may be granted to persons who have completed the educational and experience requirements for licensure and are waiting to take or receive the results of the certification examination.
Provisional Permit issued for applicants who have not taken NBCOT. Becomes void if the applicant fails the exam. An applicant cannot qualify if he previously failed the NBCOT.
New Mexico Occupational Therapy Programs-
#1 University of New Mexico-
Currently, the UNM is the only OT school offering an entry-level Master of Science in Occupational Therapy. The school of Medicine is research-based public school offers excellent occupational therapy education. The program is a full-time course but may offer a part-time option too.
University of New Mexico (UNM)
Health Sciences Center, School of Medicine
Course Offered–
Master of Science Occupational Therapy (MSOT)
University Campus
Albuquerque, New Mexico
Public or Private-
Public Institute.
Department Chair-
Janet L. Poole, Ph.D., OTR/L, FAOTA
Course Duration-
2.5-year program.
Class Size
30 students per year
OT Admission
Once a year (Fall).
Application Procedure

Apply to the Occupational Therapy Graduate Program prior to the December 1st deadline.
Apply to OTCAS.
Apply to the UNM Office of Graduate Admissions prior to February 14th if selected for on-campus interviews.

Minimum Requirement (MSOT)

Completed bachelors degree in their discipline of choice;
Minimum cumulative GPA of 3.0;
A minimum of 65 hours of voluntary observation with the occupational therapist.
The GRE score is not required.

Prerequisite Coursework (MSOT)

Human Anatomy and Physiology I & II (with lab);
Introduction to Statistics;
Abnormal Behavior;
Developmental Psychology;
Technical and professional writing.

Address
Health Sciences Center, School of Medicine
Occupational Therapy Program
MSC 09 5240, 1 University of New Mexico
Albuquerque, NM 87131-0001
Email- OccupationalTherapy @salud.unm.edu
Website
http://ot.unm.edu
#2 Western New Mexico University
Occupational Therapy Program
P.O. Box 680
Silver City, NM 88062-0680
NOTE- The MOT degree is no longer offered at WNMU. Admission to this program is closed.
Occupational Therapy Assistant School in New Mexico
#1 San Juan College
Occupational Therapy Assistant Program
School of Health Sciences
4601 College Boulevard
Farmington, NM 87402-4609
#2 Eastern New Mexico University-Roswell 
Occupational Therapy Assistant Program 
52 University Boulevard 88203 
P.O. Box 6000 
Roswell, NM 88202-6000 
Status: Probationary Accreditation (effective August 4, 2017)
#3 Brown Mackie College-Albuquerque
Occupational Therapy Assistant Program
10500 Copper Avenue, NE
Albuquerque, NM 81723-1845
Status: Accreditation-Inactive (effective October 5, 2016)
*Admission to this program is closed.
#4 Western New Mexico University
Occupational Therapy Assistant Program
P.O. Box 680
Silver City, NM 88062-0680
Status: Probationary Accreditation-Inactive* (effective October 10, 2017)
*Admission to this program is closed.
Occupational Therapist jobs in New Mexico-
The outlook for occupational therapy employment is very good in New Mexico. The United States's Bureau of Labor Statistics includes occupational therapy as one of its fastest-growing occupations, with registered occupational therapists predicted to have a faster than average growth (21- 36%). Many Health Care Recruitment providers have reported a shortage of occupational therapists and OTA in New Mexico. 
According to the Bureau of Labor Statistics, there were about 670 employed and licensed occupational therapists in New Mexico in May 2016. And the requirement of license practitioner is increasing. Huge opportunities are there in New Mexico for the occupational therapist and occupational therapy Assistant.
Occupational Therapy Salary in New Mexico-
As per indeed.com, the average salary of an occupational therapist in New Mexico was $80,000 per annum (in 2016) and According to the Bureau of Labor Statistics, the average annual and hourly income of occupational therapy professionals were $78,540 and $37.88, respectively in May 2016.