Occupational Therapy Schools/ Program-
Occupational therapy is a wonderful profession with a high percentage of job satisfaction. An Occupational therapist works in a different setup like pediatric, geriatric, orthopedic, rehab clinic, acute care, mental health, and cardiac care.
The demand for Occupational therapy has increased in recent times and the future perspective is very good. The OT has good job prospect and need of occupational therapy practitioners is increasing.
This article is focused on the students who want to join an OT school. But before we go ahead, read more about the occupational therapy here, what is occupational therapy? what does an occupational therapist do? And after getting these basic knowledge about OT, you may apply for the admission in the noble profession.
Before anyone can practice occupational therapy, first he/she has to clear the graduation from occupational therapy accredited school. Earlier, the entry-level criteria (means when he/she can start real practice as an OT) were the bachelor degree. But now the entry-level criteria have been increased to a master degree or a doctoral degree. This step has been taken for quality improvement.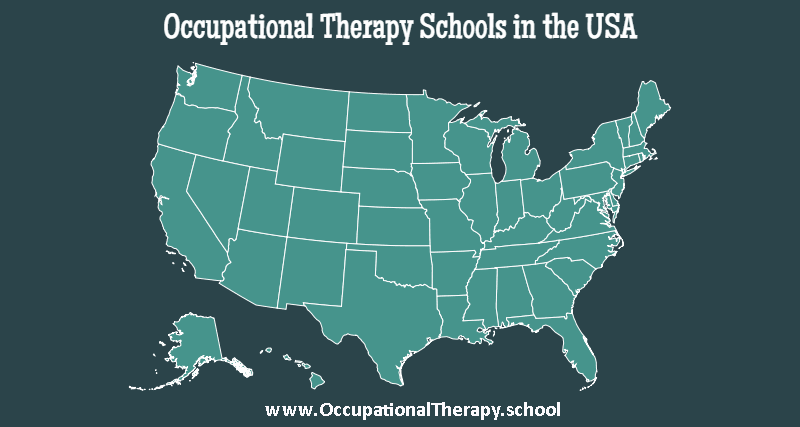 The Accreditation Council for Occupational Therapy Education (ACOTE) accreditation-
A school which provides occupational therapy education must be ACOTE accredited. The AOTA and ACOTE look after the criteria and eligibility of each occupational therapy school, which should provide better and quality education.
What are the prerequisites for master of occupational therapy entry level program?
A baccalaureate degree
GPA score of 3.0 or above
TOEFL (for the international candidate)
GRE scores
Certificate courses in the following subjects- Anatomy and physiology, human psychology, sociology, and anthropology.
These are the general prerequisite criteria. But each OT school has its own prerequisite criteria. We are providing you the link of each school, so you can get the exact criteria.
Which bachelor degree does fulfill the prerequisite criteria for admission in a master of OT program?
Common bachelor degrees for pursuing a career in occupational therapy include Psychology, rehabilitation services, biology, health science, human and child development, exercise science as a major subject.
You may need one or more certificate course in some subject like kinesiology or biomechanics along with your bachelor degree.
High GPA scores in these major subjects help to get better school.
The NBCOT Examination-
An occupational therapy school program is developed according to the ACOTE guidelines and it is designed to help the OT graduate to pass the NBCOT examination.
To pass the NBCOT examination is mandatory to practice as an occupational therapist. Occupational therapy graduate from OT school is considered as an occupational therapist (OT). But after passing the NBCOT examination, he/she becomes an OTR (Registered Occupational Therapist).
Applying to Occupational therapy school-
The AOTA officially simplified the OT application procedure through the Occupational Therapy Centralized Application Service (OTCAS). This website helps the candidate to apply for the master degree courses in different universities.
The role and purpose of OTCAS are to facilitate the OT admission process for applicants and programs, promote the occupational therapy profession and educational programs to a broad spectrum of applicants.
Occupational therapy schooling cost-
A cost of OT education may vary with the states, university or institution type- public or private, student's total capacity, and facilities provided by the institute.
Each university or OT school has its own fee structure. They may provide aid or scholarship to the eligible student each year.
Online VS regular Occupational Therapy school-
There is no single occupational therapy school currently offering an online master entry-level program. The only option is to get admission in the OT regular full-time course with fieldwork and practical.
And according to us, there should not be any online entry-level program in future also. Regular OT courses inculcate the basics of occupational therapy with practice and supervision under the registered occupational therapist.
How many colleges are providing OT education?
In the USA, there is a total of 174 entry-level ACOTE accredited master degree programs are running. In which, New York has the highest number of campuses (total 21) which provides occupational therapy master degree.
Top Occupational therapy schools-
Each school has its own importance and history of quality education. Some university has its own reputation and they are worldwide famous for quality education and better facilities.
Here is the list of 5 Top occupational therapy schools–
Boston University, MA
Washington University, St. Louis, MO
University of Southern California, CA
University of Illinois, Chicago, IL
University of Pittsburgh, Pittsburgh, PA
*reference- www.USnews.com
List of Occupational therapy schools (state-wise).
Click on the individual state link to get complete information about the OT colleges in the particular state.