Puerto Rico has only one ACOTE accredited Occupational Therapy School which provides an entry-level Masters degree. Plus, it also has 1 ACOTE accredited Occupational Therapy Assistant (OTA) School which provides an associate degree. The license is required to practice as an OT in Puerto Rico; one can appear for the licensure examination after clearing the OT entry-level degree from accredited OT schools.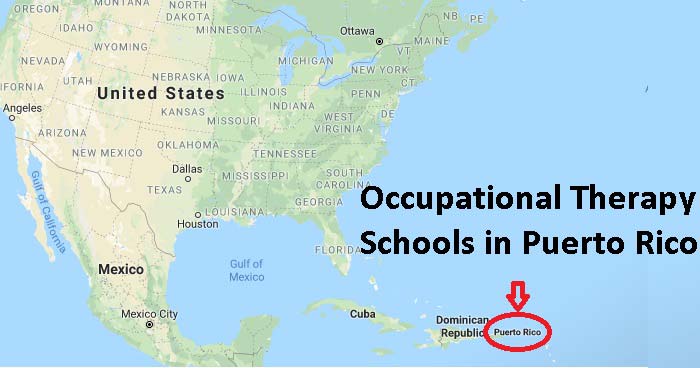 The only Occupational therapy school in Puerto Rico is-
University of Puerto Rico-Medical Sciences Campus
General information-
Puerto Rico officially the Commonwealth of Puerto Rico and briefly called Porto Rico is an unincorporated territory of the United States located in the northeast Caribbean Sea, approximately 1,000 miles southeast of Miami, Florida.
Puerto Ricans are by law citizens of the United States & may move freely between the island and the mainland. As it is not a state, Puerto Rico does not have a vote in the United States Congress, which governs the territory with full jurisdiction under the Puerto Rico Federal Relations Act of 1950.
Occupational therapy in Puerto Rico-
The occupational therapist, Occupational therapy assistant, and OT/OTA students have their own association, i.e. Professional Association of Occupational Therapy of Puerto Rico (CPTOPR).
The CPTOPR is a non-profit volunteer organization which provides a professional community for its members. The CPTOPR is a professional organization and public voice for the occupational therapy profession in Puerto Rico.
The main role of the association is to promote the occupational therapy profession, create public awareness, provide support to the therapist in continuing education and improve and maintain the quality of occupational therapy profession in Puerto Rico. The CPTOPR is an affiliated state body of the American Occupational therapy association.
Website – www.cptopr.org
Occupational therapy License in Puerto Rico-
Occupational therapist and Occupational therapy Assistants are required to get a license from the Colegio de Profesionales de Therapia Occupational de Puerto Rico (CPTOPR).
Satisfactory completion of both the academic program and fieldwork are required to be eligible to take the licensure test offered by the Puerto Rico Occupational Therapy Board of Examiners and to take the Certification Examination of the NBCOT. Successful completion of the licensure test allows graduates to practice the profession in Puerto Rico.
The minimum requirements for the license are –
Entry level master degree.
NBCOT exam's passing certificate.
Application fees of $125.
Occupational therapy Schools in Puerto Rico
#1 University of Puerto Rico-Medical Sciences Campus
The M.S. in Occupational Therapy is the first and the only entry-level professional program in Occupational Therapy in Puerto Rico that prepares occupational therapist at the master level. This program is offered in Spanish. It is a full-time, 2 ½ year in length. Two years are required to complete the didactic courses and remaining twenty-four weeks of internship (fieldwork) are required for certification to practice and are completed in three 8-week.
University of Puerto Ricor
School of Health Professions
Course Offered–
Master of Science in Occupational Therapy (entry-level)
University Campus
Medical Sciences Campus, San Juan, PR
Public or Private-
Public Institute.
Program Director
Maria de los Angeles Rohena Pagan, Ed.D., OTR/L
Course Duration-
2 and ½ year program.
Class Size
16 students
OT Admission
Once a year (Fall).
Application Procedure
Submit an online application through Universities website.
Minimum Requirement

Applicants should have at least 12 credits of the pre-requisite courses approved, including 3 credits in Human Anatomy and Physiology by the deadline.
A General Grade Point Average of 2.8 in the baccalaureate degree.
A score of 500 or above on the EXADEP (Examen de Admisión a Estudios de Post Grado);
A laptop or computer and internet access are required.
A candidate must read, write and speak Spanish and English fluently.

Prerequisite Coursework

Human Anatomy and Physiology (300 or 3000 Level or higher) Lab experiences are highly recommended (6 Credit);
Second Year English (Literature or reading comprehension content) (6 Cr);
Sociology or Anthropology (3 Cr);
Human Growth and Development (across the life span) (3 Cr);
Basic Statistics (3 Cr);
Total – 21 Credits.

Address
Occupational Therapy Program
Medical Sciences Campus,
School of Health Professions
P.O. Box 365067
San Juan, PR 00936-5067
Website
eps.rcm.upr.edu
Occupational Therapy Assistant Schools in Puerto Rico
#1 Inter American University of Puerto Rico-Ponce Campus
Occupational Therapy Assistant Program
Health Sciences
104 Turpeaux Industrial Park Road 1
Mercedita, PR 00716-1602
Website- ponce.inter.edu
Status: Probationary Accreditation (effective April 1, 2017)
#2 Huertas College
Occupational Therapy Assistant Program
Health Department
PO Box 8429
Caguas, PR 00726
huertas.edu/hc/ota
Status: Pre accreditation Status
Occupational Therapy Jobs in Puerto Rico-
The outlook for occupational therapy employment is very good in Puerto Rico. The United States' Bureau of Labor Statistics includes occupational therapy as one of its fastest-growing occupations, with registered occupational therapists predicted to have a faster than average growth (21- 36%). Many Health Care Recruitment providers have reported a shortage of occupational therapists and OTA in Puerto Rico.
According to the Bureau of Labor Statistics, there were about 230 employed and licensed occupational therapists in Puerto Rico in May 2017. And the requirement of license practitioner is increasing. Huge opportunities are there in Puerto Rico for the occupational therapist and occupational therapy Assistant.
Occupational Therapy Salary in Puerto Rico-
As per indeed.com, the average salary of an occupational therapist in Puerto Rico was $85,000 per annum (in 2017) and According to the Bureau of Labor Statistics, the average annual and hourly income of occupational therapy professionals were $39,980 and $19.22, respectively in May 2017.