The Wyoming State has only 1 ACOTE accredited Occupational Therapy School which provides an entry-level Master of Occupational therapy program. Plus, the state also has 1 ACOTE accredited Occupational Therapy Assistant (OTA) Schools which provides an associate degree. The license is required to practice as an OT in Wyoming; one can appear for the licensure examination after clearing the OT entry-level degree from accredited OT schools.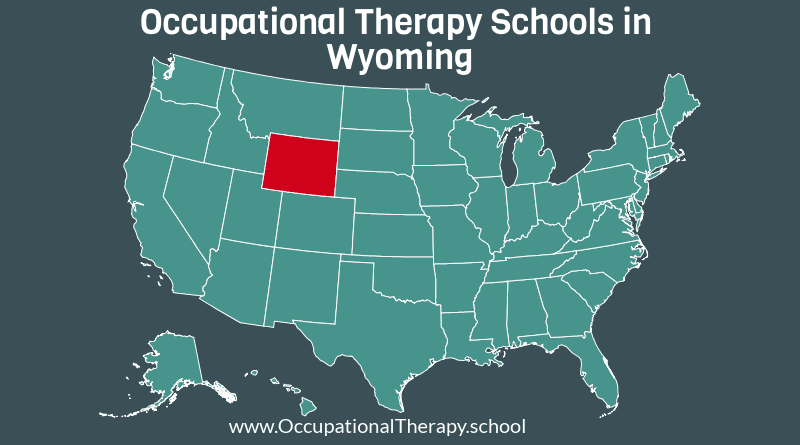 The only Occupational therapy school in Wyoming is-
University of North Dakota at Casper College
Occupational therapy in Wyoming-
The occupational therapist, Occupational therapy assistant, and OT/OTA students have their own state association, i.e. WYOTA (Wyoming Occupational Therapy Association).
The WYOTA is a non-profit volunteer organization which provides a professional community for its members. The WYOTA is a state-based professional organization and public voice for the occupational therapy profession in Wyoming.
The main role of the association is to promote the occupational therapy profession, create public awareness, provide support to the therapist in continuing education and improve and maintain the quality of occupational therapy profession in the state of Wyoming. The WYOTA is an affiliated state body of the American Occupational therapy association.
Website – www.WYOTA.org
Occupational therapy License in Wyoming-
Occupational therapist and Occupational therapy Assistants are required to get a license from the Wyoming Board of Occupational Therapy.
Satisfactory completion of both the academic program and fieldwork are required to be eligible to take the Certification Examination of the NBCOT and get license offered by the Wyoming Board of Occupational Therapy. Successful fulfillment of the requirements allows graduates to practice the profession in Wyoming.
The minimum requirements for the license are –
Entry level master degree or OTD degree
NBCOT exam's passing certificate.
Letters of Reference: The WY Board will need two letters of reference. Letters should be specifically addressed to the Board of OT and sent from the reference provider to the Board.
Application fees of $125 and a license fee of $100 (OT) and $50 (OTA).
Temporary OT/OTA License:
A temporary license to practice as an occupational therapist (OT) or as an occupational therapy assistant (OTA) may be granted to persons who have completed the educational and experience requirements for licensure and are waiting to take or receive the results of the certification examination.
A limited permit may be granted to an applicant to practice occupational therapy under the general supervision of a licensed occupational therapist. This permit shall expire six (6) months after issuance or when the applicant is issued a license under rule W.S. 33 40 109, whichever occurs first.
The Limited Permit License fee- $50
Occupational Therapy Schools in Wyoming
#1 University of North Dakota at Casper College
The Occupational Therapy Department offers a 3-year entry-level Master of Occupational Therapy (MOT) degree. Students may be admitted with 2 years of designated prerequisite courses, a baccalaureate degree is not required. OT school also offers 2-year Bachelor of General Studies Degree with health Studies option to fulfill the minimum requirement for the 3-year professional OT program.
UND has two campuses offering the Masters of Occupational Therapy degree. The main campus is located in Grand Forks, ND, and the satellite campus located in Casper, WY. Casper College also offers an Occupational Therapy Assistant associate degree.
NOTE– the OT School had been applied for entry-level OTD program to the ACOTE. The OT school may begin OTD program from fall 2019 (if candidacy status is granted by the ACOTE).
Read More… UND Grand Forks Campus
University of North Dakota
Casper College
Course Offered–
Master of Occupational Therapy (Entry-level)
University Campuses

Casper, WY
Grand Forks, ND

Public or Private-
Public Institute.
Program Chair-
Janet S. Jedlicka, PhD, OTR/L, FAOTA
Course Duration-
MOT – 3-year program
Class Size
—
OT Admission
Once a year (Summer).
Application Procedure
To apply for the program, please submit online application to University of North Dakota.
A personal interview.
Minimum Requirement

A cumulative GPA of 2.75 in the pre-requisites course;
Sixty (60) hours of volunteer work prior to application;
letters of reference;
written essay;
A resume;
Volunteer information.

Prerequisite Coursework

Human Anatomy & Human Physiology;
Introduction to OT;
English Composition (I,II);
Public Speaking;
Introductory Psychology;
Developmental psychology;
Abnormal Psychology;
Introductory Sociology;
General Biology;
General Chemistry;
Statistics;
Humanities;
Fine arts.

Address

Grand Forks Campus-

School of Medicine and Health Sciences,
Department of Occupational Therapy
Suite E321
1301 N. Columbia Road, Stop 9037
Grand Forks, ND 58202-9037
Email- [email protected]

Casper Campus-

Department of Occupational Therapy
125 College Drive, LS101
Casper, WY 82601-9958
Email- [email protected]

Website
med.und.edu
Occupational Therapy Assistant School in Wyoming-
#1 Casper College
Occupational Therapy Assistant Program
125 College Drive
Casper, WY 82601-9958
Occupational Therapy Jobs in Wyoming-
The outlook for occupational therapy employment is very good in Wyoming. The United States's Bureau of Labor Statistics includes occupational therapy as one of its fastest growing occupations, with registered occupational therapists predicted to have a faster than average growth (21- 36%). Many Health Care Recruitment providers have reported a shortage of occupational therapists and OTA in Wyoming.
According to the Bureau of Labor Statistics, there were about 290 employed and licensed occupational therapists in Wyoming in May 2017. And the requirement of license practitioner is increasing. Huge opportunities are there in Wyoming for the occupational therapist and occupational therapy Assistant.
Occupational Therapy Salary in Wyoming-
As per indeed.com, the average salary of an occupational therapist in Wyoming was 80,000 per annum (in 2017) and According to the Bureau of Labor Statistics, the average annual and hourly income of occupational therapy professionals was $80,380 and $38.64, respectively in May 2017.