The Oregon State has only one ACOTE accredited Occupational Therapy School which provides an entry-level Doctoral degree. Plus, the state also has 1 ACOTE accredited Occupational Therapy Assistant (OTA) School which provides an associate degree. The license is required to practice as an OT or OTA in the state of Oregon and it's compulsory for the graduates of OT schools to apply for the licensure before practice.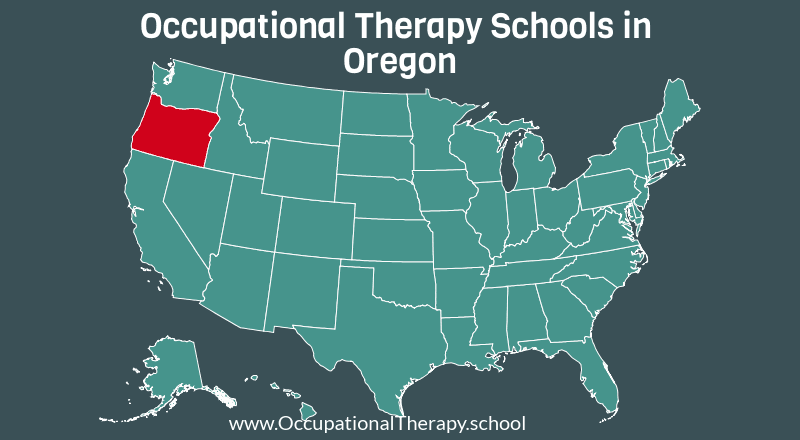 The only Occupational therapy school in Oregon is-
Pacific University
Occupational therapy in Oregon-
The occupational therapist, Occupational therapy assistant, and OT/OTA students have their own state association, i.e. Occupational Therapy Association of Oregon (OTAO).
The OTAO is a non-profit volunteer organization which provides a professional community for its members. The OTAO is a state-based professional organization and public voice for the occupational therapy profession in Oregon.
The main role of the association is to promote the occupational therapy profession, create public awareness, provide support to the therapist in continuing education and improve and maintain the quality of occupational therapy profession in the state of Oregon. The OTAO is an affiliated state body of the American Occupational therapy association.
Website – www.otao.com
Occupational therapy License in Oregon-
Occupational therapist and Occupational therapy Assistants are required to get a license from the Oregon Occupational Therapy Licensing Board (OTLB).
The minimum requirements for the license are –
Entry level master degree or OTD degree
NBCOT exam's passing certificate.
Application fees of $215.
Temporary OT/OTA License:
A temporary license to practice as an occupational therapist (OT) or as an occupational therapy assistant (OTA) may be granted to persons who have completed the educational and experience requirements for licensure and are waiting to take or receive the results of the certification examination.
Temporary licenses are available only once for those who are applying to take the NBCOT examination. The Limited permit costs $65 and is eligible for 90 days from the date of NBCOT Authorization to Test notification.
Occupational therapy Schools in Oregon
#1 Pacific University-
It's the only Occupational therapy school in Oregon. The OT school offers 3-year OTD program, in which the first two years are on campus, a third year is distance-based. The School of Occupational Therapy also offers a graduate certificate in gerontology along with the OTD.
The curriculum consists of academic, laboratory and distance-based learning experiences integrated with both part-time and full-time professional fieldwork.
Pacific University
School of Occupational Therapy
Course Offered–
Doctor of Occupational Therapy (entry level)
University Campus
Hillsboro, OR
Public or Private-
Private Institute.
School Director
Gregory Wintz, PhD, OTR/L
Course Duration-
3-year program.
Class Size
—-
OT Admission
Once a year (Fall).
Application Procedure
Apply to the OT school at Pacific University.
A personal interview is required.
Minimum Requirement (OTD)

A bachelor's degree;
A cumulative GPA of 3.0 or higher;
Completed a minimum of 20 documented hours of practical experience (observation, volunteer and/or work experience) in OT settings.
No GRE score required.

Prerequisite Coursework (OTD)
Natural Sciences-

Human Anatomy w/ Lab;
Human Physiology w/ Lab;
Additional natural science courses. Kinesiology or Physics is recommended.

Social Sciences-

General Psychology;
Abnormal Psychology;
Developmental Psychology (preferably across a lifespan).

Expository Writing; Statistics- Courses from any of the following:

Psychology;
Sociology;
Anthropology;
Math.

Humanities-Courses from two (2) of the following:

Literature
Religion;
History
Philosophy
Ethics
Art History or Appreciation
Music
Theater.

Medical Terminology.

Address
School of Occupational Therapy
190 S.E. 8th Avenue, Suite #360
Hillsboro, OR 97123-4216
Email-

[email protected]

Website
www.pacificu.edu
Occupational Therapy Assistant Schools in Oregon-
#1 Linn-Benton Community College-Healthcare Occupations Center
Occupational Therapy Assistant Program
300 Mullins Drive
Lebanon, OR 97355
Occupational Therapy Jobs in Oregon-
The outlook for occupational therapy employment is very good in Oregon. The United States' Bureau of Labor Statistics includes occupational therapy as one of its fastest growing occupations, with registered occupational therapists predicted to have a faster than average growth (21- 36%). Many Health Care Recruitment providers have reported a shortage of occupational therapists and OTA in Oregon.
According to the Bureau of Labor Statistics, there were about 1080 employed and licensed occupational therapists in Oregon in May 2016. And the requirement of license practitioner is increasing. Huge opportunities are there in Oregon for the occupational therapist and occupational therapy Assistant.
Occupational Therapy Salary in Oregon-
As per indeed.com, the average salary of an occupational therapist in Oregon was $85,000 per annum (in 2016) and According to the Bureau of Labor Statistics, the average annual and hourly income of occupational therapy professionals were $84,430 and $40.59, respectively in May 2016.